THE BOURSE WHISPERER: There is little doubt that the world is currently in the thrall of the lithium-ion battery (LIB).
They help us survive the modern struggles that we encounter on a daily basis, such as maintaining a charge on our mobile phones or computer-related devices, thus keeping us contacted with the rest of the world and our family members in the next room.
They are, presently, our greatest source of portable power.
They are also, ironically, creating an environmental nightmare.
Analysts who like to make themselves important have made some big predictions in recent years, especially in regard to the market penetration of LIBs, particularly in the electric vehicle (EV) sector.
Through all the noise in this space, it has generally filtered through that it is likely that the availability of spent batteries will rise to more than seven million tonnes annually over the next 20 years.
Diligently, we sort our household rubbish each week, or fortnight, depending on the generosity of your local council, into different levels of importance, filling any number of bins to assuage our collective waste related guilt.
On a global basis, however, only around nine per cent of spent LIBs are recycled to keep them out of landfill and recover valuable metals.
In Australia, which is supposedly one of the recycling powerhouses, the recycling rate is embarrassing, some would say woeful, coming in at less than three per cent.
What this all means is that the world is missing out on a great opportunity – that being the large quantity of batteries discarded globally actually represents a potentially significant resource.
Australia is a long way behind the countries that are presently leading the battery recycling wars.
Belgium, South Korea, China and Canada recycle the most batteries, with the metals they contain generally recovered by smelting – or as it is referred to by those in the know – pyrometallurgical processing.
Pyrometallurgical processing of spent LIBs can efficiently recover nickel, copper, cobalt and manganese from LIBs, but not the lithium or graphite.
Research and development into the science by Western Australia-based battery recycling company, Lithium Australia (ASX: LIT) realised that a potential alternative to the downsides associated with pyrometallurgical processing is to take a hydrometallurgical approach.
Lithium Australia is developing a hydrometallurgical technique that recovers all metals, including lithium, from spent LIBs.
Lithium Australia has openly declared that its corporate intentions include shoring up an ethical and sustainable supply of energy metals to the battery industry, thus enhancing energy security in the process.
The company is eager to create a circular battery economy and has highlighted the recycling of old lithium-ion batteries to new is intrinsic to this plan.
In October 2019, Lithium Australia announced it had increased its equity in Envirostream Australia Pty Ltd (EA) to 23.9 per cent.
Envirostream is the only company in Australia with the integrated capacity to collect, sort, shred and separate all the components of spent LIBs.
Another string to Lithium Australia's LIB bow is it 100 per cent-owned subsidiary company, VSPC Ltd that has developed advanced processes for manufacturing lithium-ferro-phosphate (LFP) cathode powders at its R&D and pilot plant facility in Brisbane, Queensland.
The cathode powders produced by VSPC possess simple nanotechnology that produces superior battery cathodes, provides control of composition and particle size in a precise manner and highly reliable quality control with low production costs.
Recent evaluation of VSPC's Gen 4 LFP cathode material was undertaken at Chinese battery producer DLG Battery Co., Ltd. That saw the materials assessed in a commercial 18650 battery-cell format under a range of electrochemical and temperature conditions and subjected to long-term cycle testing.
The testing concluded that VSPC's LFP material met DLG's stringent specifications for use in LIB cells for both power and energy applications.
VSPC also received positive feedback from Japanese battery-cell producers, which are evaluating its LFP products at laboratory scale with the electrochemical performance of VSPC's LFP material meeting the rigorous Japanese requirements.
"This year has seen a significant shift in the Chinese battery markets, with greater demand for LFP for use in short-range electric vehicle and energy-storage applications," Lithium Australia managing director Adrian Griffin said.
"The test results from battery producers in China and Japan show clearly that the performance of VSPC cathode powders is comparable to other materials currently supplied for the production of LFP LIBs.
"We look forward to furthering our partnerships within the battery industry and, ultimately, supplying products that meet not only VSPC's stringent quality specifications but those of its international customers."
Lithium Australia anticipates the market for LFP to grow strongly in the next 10 years, due to its particular suitability for energy storage and certain types of transportation, which includes being a replacement for lead-acid batteries in various automotive applications and as back-up for power supplies.
Another Western Australian company that was an early battery recycling proponent is Neometals (ASX: NMT).
Neometals has been also carrying out LIB Pilot test-work, however its focus is the recovery of very high-purity (+99.9%) nickel-sulphate solution from the hydrometallurgical processing stage of its patent pending recycling technology.
The latest tests produced nickel recovery from shredded battery feed into nickel product that exceeded 98 per cent.
The Pilot test-work being is being undertaken on behalf of Neometals by SGS Canada Inc.
The work represents part of the pre-development activities for a proposed commercial LIB recycling venture targeting greater than 90 per cent recovery of LIB materials from electric vehicle and consumer electronics production scrap and end-of-life cells.
Neometals shredded and processed 2.3 tonnes of spent commercial LIBs during the initial Feed Preparation Stage of the Pilot test-work.
A total of 980 kilograms of mixed cathode and anode materials, known as Black Powder, fed the subsequent hydrometallurgical processing stage, from which chemical products are recovered and refined into high-purity cathode intermediate materials.
The Hydrometallurgical Processing stage leaches the Black Powder and sequentially recovers cathode materials, which are refined to generate high-purity chemical products for potential sale directly into the battery supply chain.
As the Pilot test-work program draws towards completion, it does so having recovered a suite of materials, including copper, manganese, cobalt and nickel-sulphates.
"The Pilot test-work continues to deliver very encouraging results that support the Neometals desire to sell high-purity cathode materials back into the battery supply chain," Neometals managing director Chris Reed said.
"With provenance, ethical supply and material scarcity concerns, a sustainable, secure supply chain will be key for leaders in energy storage.
"Eco-friendly recycling will play that vital role and our development timing aligns well with global forecast cell capacity against the projected supply deficit in traditional mine-sourced battery minerals."
Neometals said the purity and the recovery rates of the nickel product materially had exceeded its expectations, enabling it to tick off another milestone in the confirmation of the technical feasibility of the company's proprietary process.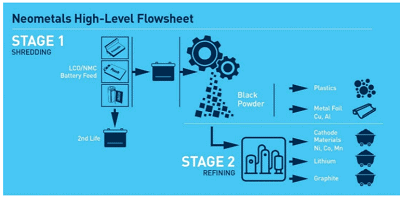 The company explained that the recovery of cobalt and nickel are key drivers of the project economics adding that the Pilot purity/recovery data strongly supports the validity of previous economic evaluations.
Neometals expects to hit its remains on schedule for completing the bulk of the Pilot stage by December 2019.
It is also expected that the recovery of lithium will be due to commence prior to year-end and be concluded in January 2020 along with outcomes from final purification and crystallisation to produce ultra-high purity, cathode materials.
Successful completion of the Pilot and confirmation of the mass-energy balances are the key technical considerations for SMS Group's due diligence for a 50:50 joint venture decision.
Email: info@lithium-au.com
info@neometals.com.au
Web: www.lithium-au.com
www.neometals.com.au
https://resourcesroadhouse.com.au/wp-content/uploads/2017/06/logo-finalized4.png
0
0
Wally Graham
https://resourcesroadhouse.com.au/wp-content/uploads/2017/06/logo-finalized4.png
Wally Graham
2019-11-28 22:14:08
2019-11-28 22:14:08
Lithium Australia and Neometals Leading the Australian LIB Recycling Pack