THE INSIDE STORY: Sheffield Resources (ASX: SFX) is progressing development of the company's 100 per cent-owned, Thunderbird mineral sands project, located in north-west Western Australia.
Sheffield Resources is nearing the finishing line of the developmental process at the Thunderbird project, so it can start the next phase, including construction, commissioning, mining and production of zircon and ilmenite related products.
Thunderbird is one of the largest and highest grade mineral sands discoveries in the last 30 years hosting Mineral Resources of 3.23 billion tonnes at 6.9 per cent heavy minerals (HM) (Measured, Indicated and Inferred at 3% HM cut-off).
The Resources includes 18.6 million tonnes of zircon, 5.9 million tonnes of high-titanium leucoxene, 6.5 million tonnes of leucoxene and 61.7 million tonnes of ilmenite as well as a coherent and minable high-grade zone (at 7.5% HM cut-off) of 1,050 million tonnes at 12.2 per cent HM (Measured, Indicated and Inferred) containing 9.7 million tonnes of zircon, 3 million tonnes of high-titanium leucoxene, 2.7 million tonnes of leucoxene and 35 million tonnes of ilmenite.
The high in-situ valuable heavy mineral (VHM) grades for this zone of 0.93 per cent zircon, 0.28 per cent high-titanium leucoxene, 0.26 per cent leucoxene and 3.3 per cent ilmenite places Thunderbird within the top tier of global heavy minerals sands (HMS) deposits.
Sheffield's Bankable Feasibility Study determined Thunderbird as being a technically minimal risk, modest capex project that will generate strong cash margins from world-class levels of production over its currently forecast exceptionally long mine life of 42 years.
While progress has been made at Thunderbird, Sheffield has also generated two new zircon rich projects located in the Canning Basin of Western Australia and the Eucla Basin of South Australia.
The company's portfolio of HMS exploration projects now comprises the Dampier and Central Canning projects, located in the Canning Basin of Western Australia, the Eneabba and McCalls projects located in the North Perth Basin of Western Australia, and the Barton project located in the Eucla Basin of South Australia.
Sheffield has outlined an exploration strategy focussed on targeting additional large, high value, zircon rich deposits suitable for downstream processing at the Thunderbird Dry Mineral Separation Plant (MSP).
To that end, Sheffield has resolved to actively pursue and evaluate new mineral sands opportunities in Australia and overseas, with a focus on zircon rich deposits.
"We have commenced new drilling programs at the Thunderbird project with the expectation of establishing new Resources," Sheffield Resources managing director Bruce Mc Fadzean told The Resources Roadhouse.
"Any increase on Resources or Reserves at Thunderbird could result in pushing the current mine life expectancy out well beyond 50 years."
Once in production, Thunderbird will generate a high-quality suite of mineral sands products with specifications suited to market requirements.
These products include premium zircon suitable for the ceramic sector and low temperature roast (LTR) Ilmenite, one of the highest-grade sulfate feedstocks available globally and the product is also suitable for use within the high growth chloride slag market.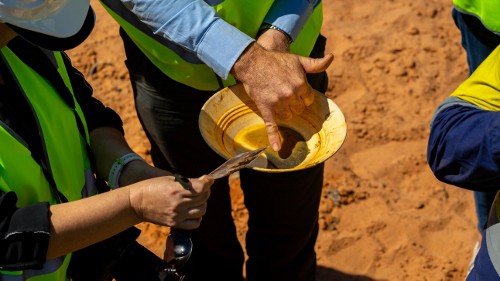 Sheffield recently announced the signing of a binding zircon offtake agreement with Qingyuan Jinsheng ZR & TI Resources Co. Ltd, for the minimum annual supply of 9,000 tonnes of premium zircon.
The agreement followed an earlier rush of customers signing on for binding offtake agreements that included:
CFM Minerales s.a for minimum annual supply of 4,000 tonnes of premium zircon;
Hainan Wensheng High-Tech Materials Company Limited for a minimum annual supply of 27,000 tonnes of zircon concentrate; and
Nanjing Rzisources International Trading Co Ltd for a minimum annual supply of 15,000 tonnes of premium zircon and 23,000 tonnes of zircon concentrate.
The offtake combination means 100 per cent of both zircon concentrate and premium zircon for Stage 1 of Thunderbird has now been secured under binding agreements.
Sheffield recently secured a maiden binding ilmenite offtake agreement for the future sale of LTR ilmenite from its Thunderbird deposit.
The Agreement, signed with Bengbu Zhongheng New Materials S&T Co., Ltd (Bengbu), is based on a five-year minimum annual supply of 150,000 tonnes of LTR ilmenite. This represents approximately 50 per cent of the estimated total volume of LTR ilmenite to be produced from Stage 1 of Thunderbird
"The Thunderbird LTR ilmenite is a premium feedstock for the sulfate pigment industry, however this agreement clearly shows we are able to also target the high growth chloride slag market," McFadzean said.
With the zircon side of production covered and 50 per cent of LTR ilmenite under binding contract, over 75 per cent of total forecast Stage 1 revenue is now under binding agreement.
McFadzean explained that due to more stringent environmental requirements the chloride pigment sector, particularly in China, is set to enter a major growth phase which is providing an exciting and growing opportunity for our ilmenite product.
"All of the growth in production in pigment is in the chloride sector – even in China, they're unlikely to permit any new sulfate plants," McFadzean continued.
"For us to enter into that sector as a feedstock for chloride slag was a great win and we have received a lot of calls from producers and investors saying that they were impressed that Sheffield was able to break into that sector.
"We have always had the product with the potential to enter the chloride sector – we just never targeted it before."
Important contractual agreements associated with the development of Thunderbird have continued to progress well, including the recently inked Port Access Agreement with the Shire of Derby-West Kimberley in WA.
The Agreement covers a minimum of 20 years of planned production from Thunderbird and provides long term access to a bulk handling facility and associated infrastructure located at the Port of Derby, from where Sheffield plans to export its mineral sands bulk products including LTR ilmenite, zircon concentrate and titanomagnetite.
Infrastructure at the Port of Derby was previously used for the export of base metal concentrates and is very well suited to the export of mineral sands products.
The company's involvement with local communities has been integral to the progress made at Thunderbird.
Recently a co-existence agreement was successfully negotiated with the Walalakoo Aboriginal Corporation (WAC), the prescribed body corporate for the Nyikina Mangala native title holders, over miscellaneous licences that secured road access to the Thunderbird project.
The agreement covers the portion of the Thunderbird access road off the Great Northern Highway that coincides with Nyikina Mangala determined land and ensures the Nyikina Mangala people will participate in the development of the project through the receipt of throughput payments, employment, training and business opportunities.
"We were extremely pleased with the outcome of the negotiations with the Nyikina Mangala people," McFadzean said.
"The resulting agreement recognises the interests of the Nyikina Mangala people and will ensure they play a pivotal role in the future of the Thunderbird project."
Sheffield's Thunderbird project is in one of the world's best mining investment jurisdictions and is well placed to deliver long term, secure supply of high quality products to a range of potential customers.
Subject to permitting activities, the company is targeting initial production in 2020 with the initial planned production profile expected to fill emerging supply gaps in global mineral sands markets.
Sheffield Resources Limited (ASX: SFX)
…The Short Story
HEAD OFFICE
Level 2
41-47 Colin Street
West Perth WA 6005
Ph: + 61 8 6555 8777
Email: info@sheffieldresources.com.au
Website: www.sheffieldresources.com.au
DIRECTORS
Will Burbury, Bruce McFadzean, Bruce McQuitty, David Archer
https://resourcesroadhouse.com.au/wp-content/uploads/2018/08/Sheffield-Web-300x225.jpg
225
300
Wally Graham
https://resourcesroadhouse.com.au/wp-content/uploads/2017/06/logo-finalized4.png
Wally Graham
2018-08-01 09:11:44
2018-10-11 20:16:54
Thunderbird Zircon Offtake Done: Ilmenite 50 per cent Complete