THE CONFERENCE CALLER: The year is flying by and here at The Roadhouse we have suddenly realised the annual Diggers & Dealers Forum in Kalgoorlie is looming.
Diggers & Dealers is always an interesting visit for The Roadhouse as we stroll through the giant marquee catching up with old chums and meeting new ones.
The roll call of presenters this year hasn't really thrown up anything new for us to look at, but there is a healthy mix of small cap plays rubbing shoulders with the big boys.
In the lead up to the conference, we thought we would look at some of these smaller explorers, starting with companies whose share prices currently sit under 10 cents per share (at time of writing).
AUSTRALIAN VANADIUM (ASX: AVL) (3.8 cents)
Australian Vanadium is developing the Australian Vanadium project at Gabanintha, which it caliams to be one of the most advanced vanadium projects being developed globally.
The project boasts a Resource of 239 million tonnes at 0.73 per cent vanadium pentoxide (V₂O₅), containing a high-grade zone of 95.6 million tonnes at 1.07 per cent V2O5 and an Ore Reserve of 30.9 million tonnes at 1.09 per cent V2O5.
This is comprised of a Proved Reserve of 5 million tonnes at 1.11 per cent V2O5 and a Probable Reserve of 20.4 million tonnes at 1.07 per cent V2O5, reported in compliance with the JORC Code 2012.
Via its 100 per cent-owned renewable energy and energy storage subsidiary, VSUN Energy, Australian Vanadium is currently working on the design and construction of a high renewable capacity stand-alone power system (SPS) for IGO's Nova nickel operation.
IGO is set to trial an SPS based on a vanadium redox flow battery (VRFB) to power a mine process water bore pump, with a target of 100 per cent renewable energy use.
This system will be the first of its kind deployed on an Australian mine site.
ANTIPA MINERALS (ASX: AZY) (3 cents)
Antipa Minerals has a group of gold projects in Western Australia that includes Joint Ventures with both IGO and Newcrest, however these are not the pinnacle of its portfolio.
That accolade goes to the company's 100 per cent owned Minyari Dome project that covers an area of 144 square kilometres and features a geological structure referred to as Minyari Dome.
This structure hosts the Minyari and WACA deposits that were updated earlier this year.
The Minyari-WACA Resource currently contains a combined Mineral Resource of 1.8 million ounces of gold, 64,300 tonnes of copper, 584,000 ounces of silver and 11,100 tonnes of cobalt.
This hasn't detracted from the other projects that were bolstered by Newcrest's decision to assume management of the Wilki project having completed the initial commitment of $6 million exploration expenditure in November 2021.
The Paterson project 2021 exploration program was fully funded by IGO as part of its $30 million farm-in and resulted in delivery of multiple high-priority targets.
These included seven high-priority copper, gold and pathfinder anomalies, three air core anomalies – one with co-incident magnetic anomaly; and four soil anomalies.
Exploration activities at Paterson in 2022 will involve air core and diamond core drilling, including diamond drill testing two Havieron look-alike targets as well as soil sampling, and airborne plus ground geophysical surveys.
CHESSER RESOURCES (ASX: CHZ) (8.4 cents)
Most of the recent news emanating from Chesser Resources has come out of exploration and development activities on the company's Diamba Sud gold project in Senegal, West Africa.
Chesser has discovered three high-grade gold projects (Areas A and D and Karakara) within the Diamba Sud project.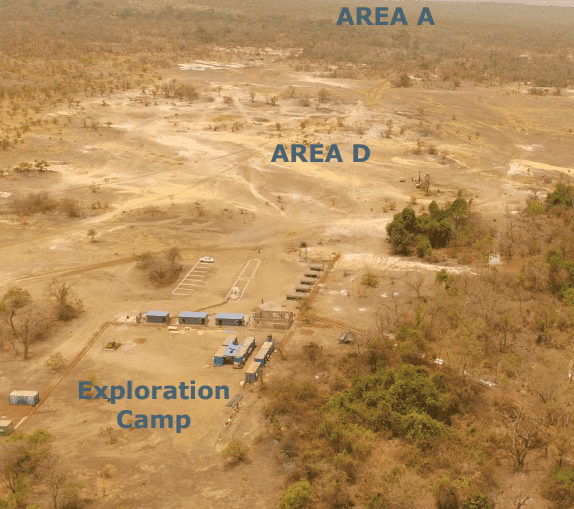 Results of a Scoping Study released earlier this year over the Area A and Area D Mineral Resources at Diamba Sud demonstrated potential value from future mine development.
This included a 7.5-year project life producing 704,000 ounces of gold at an average AISC of US$820 per ounce with the first two years of gold production totalling 244,000 ounces of gold at an average AISC of US$545 per ounce.
The study did not include any potential Mineral Resources from the new discovery at Area H – now known as the Karakara deposit.
Chesser considers there to be plenty of Resource upside to come from Areas A and D, which currently remain open and the new discovery at Area H (Karakara).
GREAT BOULDER RESOURCES (ASX: GBR) (8.2 cents)
Great Boulder Resources found it hard to contain its excitement over recent drilling results came through from two diamond holes drilled at the Mulga Bill deposit within the company's Side Well gold project near Meekatharra in Western Australia.
Great Boulder Resources' excitement stemmed from assays received from final diamond holes drilled in April at Mulga Bill that included:
22MBRC005
5.9 metres at 39.37 grams per tonne gold from 84.3m, including 3.6m at 63.79g/t gold from 85.4m.
The company declared this result to have verified down dip continuity of its original "discovery hole" of:
21MBAC002
3m at 34.54g/t gold from 32m.
Great Boulder was also taking in results from AC drilling at Mulga Bill that returned results supporting the definition of targets for follow up RC drilling and increased drill coverage to confirm the six kilometres strike length at Mulga Bill.
The deposit currently remains open in both directions with expansion possible of the mineralised footprint to the west.
This all came on the back of news that RC drilling had recommenced at the Side Well gold project.
While available, the rig will also complete a second phase of RC drilling at the new Ironbark discovery, with extensional holes planned to test the strike extent of recent high-grade intersections announced earlier in June.
Great Boulder expects the drilling to continue for the remainder of the year as part of the company's strategy to advance the Mulga Bill deposit towards a maiden Mineral Resource estimate as quickly as possible.
POSEIDON NICKEL (ASX: POS) (4.1 cents)
Poseidon recently released an updated combined underground high-grade and open pit disseminated Mineral Resource Estimate (MRE) for the company's Black Swan nickel project near Kalgoorlie in WA.
The updated estimate rolled in at 28.9 million tonnes at 0.63 per cent nickel for 181,000 tonnes of nickel metal contained, an uplift of approximately 10,000 tonnes of nickel from the previous estimate.
The Black Swan Disseminated Mineral Resource update together with a previously announced high-grade underground resources update means the company's total resources are now just over 206,000 tonnes contained nickel.
Poseidon owns the Windarra, Black Swan and the Lake Johnston nickel projects providing ownership of the mines and infrastructure including concentrators at Black Swan and Lake Johnston.
Poseidon considers all these projects to have exploration opportunities.
The company intends Black Swan will be the first project to restart followed by Lake Johnston and then Windarra, subject to codicils that include favourable Feasibility Studies, appropriate project financing structures being achieved, the outlook for the nickel price remaining positive and all necessary approvals being obtained.
https://resourcesroadhouse.com.au/wp-content/uploads/2017/06/logo-finalized4.png
0
0
Wally Graham
https://resourcesroadhouse.com.au/wp-content/uploads/2017/06/logo-finalized4.png
Wally Graham
2022-07-14 13:58:52
2022-07-14 13:58:52
Small-Cap Companies to Contribute at Diggers & Dealers