THE CONFERENCE CALLER: The Roadhouse continues its look at the smaller explorers presenting at the upcoming Diggers & Dealers Forum in Kalgoorlie.
This week we look at some of these smaller explorers whose share prices currently sit over 10 cents and under 20 cents per share (at time of writing).
Peel Mining (ASX: PEX) 16.5 cents
Peel Mining has been busy interpreting results generated by drilling at the Mallee Bull and Wirlong deposits at the company's South Cobar copper project in New South Wales.
Results from a 2021/22 resource drilling program at Mallee Bull highlighted the deposit's quality and continuity of mineralisation throughout the infill program.
At Wirlong, results also confirmed quality and continuity of the deposit with high-grade copper intervals intersected throughout the Wirlong mineral system.
Wirlong is developing into an important part of Peel's South Cobar Copper strategy alongside Mallee Bull.
The company anticipates the results from Wirlong, along with the results from Mallee Bull, to have a positive impact on the South Cobar copper Resource upgrade planned for mid CY2022.
Nickelsearch (ASX: NIS) 11.5 cents
Earlier this year, NickelSearch conducted an integrated and systematic nickel sulphide targeting study that identified and prioritised over 30 greenfield exploration targets across the company's wholly-owned Carlingup nickel project, located in Ravensthorpe, Western Australia.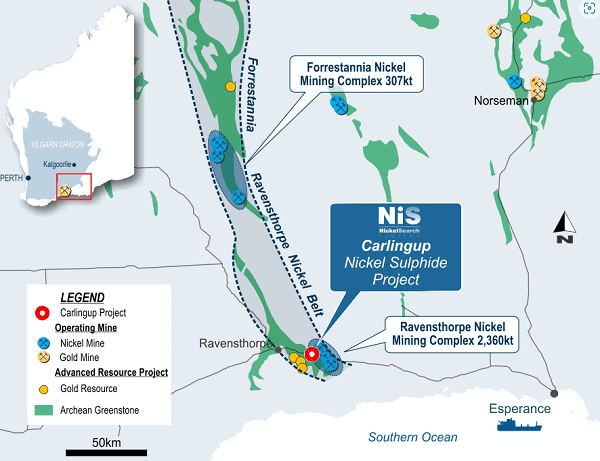 The study produced 11 Priority 1 targets and defined a highly prospective mineralised corridor at Carlingup South over a strike extent of nine kilometres, with three drill-ready targets, subject to receiving necessary approvals and conducive ground conditions.
This targeting work was enhanced by ultra fine soil assay results along the Carlingup South trend that returned highly anomalous Kambalda and Platinum Group Metals (PGM) responses, which Nickelsearch considers being indicative of komatiitic nickel sulphides at depth.
NickelSearch is embarking on a modern, rigorous, and comprehensive exploration program across its entire tenement package.
This is the first time this land package has been consolidated under one company.
Panoramic Resources (ASX: PAN) 18.75 cents
Ignore Panoramic Resources at your peril with the company recently advising that commercial production has been achieved at its Savannah nickel project in Western Australia.
The company commenced commercial production at Savannah from 1 April 2022 following the first production of concentrate in October 2021.
Panoramic signalled the ramp-up of underground mining will continue throughout FY23 as development of additional levels opens new areas for production, from Savannah North.
Annual production from Savannah is forecast to increase in FY23 with guidance of:
6,600 – 7,100 tonnes of nickel in concentrate;
4,100 – 4,500 tonnes of copper in concentrate; and
400 – 500 tonnes of cobalt in concentrate.
FY23 production guidance for nickel in concentrate reflects a blended production of ore from Savannah (remnants) and Savannah North (new mine).
Savannah North provides approximately 62 per cent of the ore feed, with Savannah providing the balance.
Galena Mining (ASX: G1A) 13.5 cents
Galena Mining's 60 per cent-owned Abra base metals mine is a lead-silver project located in the Gascoyne region of Western Australia.
At latest report, construction of the Abra project is currently 75 per cent complete with Galena confirming first concentrate production on-target for Q1 2023.
The project's CY2023 mill throughput is expected to be 0.8-1 million tonnes per annum resulting in ramp-up year lead production of 53,000-68,000 tonnes.
Following ramp-up, the life of mine average annual production is expected to average 93,000 tonnes of lead and 553,000 ounces of silver, with lead C1 direct cash costs of US$0.50 per pound.
Pantoro (ASX: PNR) 18.5 cents
Pantoro has a couple of major feathers in its operations cap at present, the first being its 50 per cent-owned Norseman project where construction continues apace.
The project has a substantial Ore Reserve of 900,000 ounces that increased 48 per cent since release of a Phase One DFS in October 2020.
Pantoro completed a $45 million capital placement earlier this year to accelerate mining at Norseman and maintain growth exploration activities at high rates while also supporting advancement of the Lamboo PGE project within the company's second feather, the 100 per cent-owned Halls Creek project.
Recent step out drilling at the Lamboo nickel-PGE prospect returned strong PGE, nickel and cobalt assays.
An added extra was the inclusion of coincident rhodium and iridium grades returned in the northern extensions of the platinum-palladium-gold zones the company has drilled to date.
https://resourcesroadhouse.com.au/wp-content/uploads/2017/06/logo-finalized4.png
0
0
Wally Graham
https://resourcesroadhouse.com.au/wp-content/uploads/2017/06/logo-finalized4.png
Wally Graham
2022-07-21 15:22:53
2022-07-21 15:22:53
Small-Cap Companies to Contribute at Diggers & Dealers (part 2)