THE INSIDE STORY: Panoramic Resources (ASX: PAN) has discovered a new zone of nickel mineralisation, which could significantly extended the current mine life of Savannah.
Nickel enjoyed a buoyant beginning to 2014, thanks to the Indonesian Government's ban on the export of nickel laterite ores.
Before the ban Indonesia was the world's biggest exporter of nickel and the main supplier of low-grade nickel laterite ores to China's nickel pig iron industry.
"I don't want to comment on Indonesian politics but I do understand the rationale for the decision they have made," Panoramic Resources Managing Director Peter Harold told The Resources Roadhouse.
"I will, however, say we are very happy to see the impact that decision is having.
"Combined with the weaker currency there has been a significant improvement, in Australian dollar terms, in the nickel price.
"That means we are making good money now from our existing operations as our margins have recovered."
Panoramic Resources operates two 100%-owned underground nickel sulphide mines in Western Australia, the Savannah project in East Kimberley and the Lanfranchi project near Kambalda.
 
The company produced 19,561 tonnes of contained nickel in FY2013 and recently increased its guidance, forecasting to produce between 21,500 and 22,000 tonnes in FY2014.
One troubling aspect of any mine is that every tonne of ore produced moves it closer to the end of its life.
Panoramic could have recently discovered the elixir of mine life in the form of the Savannah North mineralised zone.
Drill hole KUD1525 was the first of a new drill program Panoramic designed to explore for the faulted continuation of the Savannah Intrusion to the north of the existing mine.
As far as first holes go, it couldn't have been better with initial results returning assays of:
89.3 metres at 1.6% nickel, 0.76% copper, 0.12% cobalt from 704.9 metres, including:
13.2m at 2.1% nickel, 0.72% copper, 0.15% cobalt from 741.8m; and
17m at 2.28% nickel, 1.16% copper, 0.17% cobalt from 777m.
"The Savannah story is very much now about maintaining record production levels, keeping costs down, the recent discovery at Savannah North and its potential in regards to our ability to increase reserves and extend mine life, given that we are now down to three years based on the current reserve," Harold said.
"First and foremost Savannah North is a wonderful discovery by our geological team, led by John Hicks, who had the foresight and the knowledge to look in that area.
"He really had nothing more than a blank sheet of paper, yet was able to develop a theory of the potential existence of a fold, which if correct would mean the orebody could continue to the north.
"He wasn't basing his assumptions on any particular EM targets, aeromagnetic surveys or such; it was based purely on his intimate knowledge of the ore body above the 900 fault, the drilling below the 900 Fault and what may have happened as a result of a geological event.
"It was really good geological detective work to anticipate a possible continuation in what was a totally untested area."
The Savannah North discovery has to be one of the better examples in recent times of the courage and faith required for successful exploration.
Courage initially from Hicks to approach the Board with what he considered to be the best option for him to follow; faith displayed by the company in Hicks' knowledge of the geology to support his assumptions; and both by very supportive brokers, a significant new investor in Zeta Resources and the marketplace, which rallied to raise the money giving Panoramic the confidence to carry out an aggressive exploration program.
"We raised $15 million, in a very tough market, for nickel exploration," Harold said.
Subsequent to the discovery, KUD1525 intersected a second zone of mineralisation of: 8.7m at 1.23% nickel, 0.87% copper and 0.09% cobalt from 882.5m, which was interpreted to be mineralisation caught up within the 900 Fault zone, lying below the Savannah North discovery.
"We are definitely onto something and down-hole EM surveying of KUD1525 identified targets to follow-up, which has provided much confidence as well as the impetus to get in there and do some serious drilling," Harold said.
"We have one underground rig and two surface rigs drilling focusing on the area where that EM target was identified and where we encountered mineralisation previously, to test the entire structure in order to determine just how big it may be.
"The sooner we convert all that drilling into Resources and Reserves the sooner we can start thinking about mine life extension."
With everything happening at Savannah, it would be easy to presume Panoramic was concentrating all of its efforts there.
However, there is still a lot of action at the Lanfranchi project where a number of prospective targets have been identified.
 
"From the $15 million we raised last year we determined to spend as much as possible on nickel exploration at both sites," Harold said.
"We budgeted an equal amount of money at Lanfranchi with the intention of extending existing ore bodies, potentially identifying a new mineralised channels.
"There's been no major discoveries yet, but we are confident, as we know the Kambalda Field has a track record of producing a lot of ore."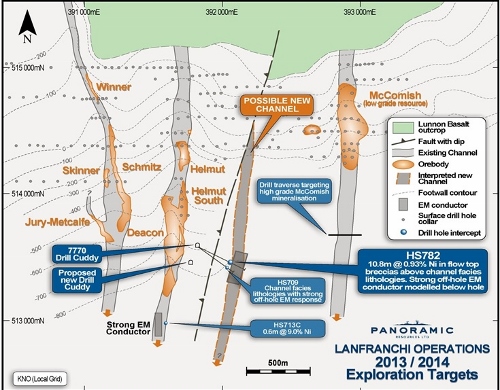 Panoramic's diversity extends beyond the two nickel mines it operates to incorporate other commodities.
The Gidgee gold project near Wiluna in WA, includes the high-grade Wilsons project, while the company also holds a 70% interest in the Mt Henry gold project near Norseman.
"We are in the process of finishing off Feasibility Studies on both these project, both of which we anticipate being completed by around June this year," Harold said.
"We are keen to get those finished to get a good idea of how those projects look in 2014 dollars from a capital and operating cost perspective.
"We expect one of those projects to look better than the other one in terms of risk and ecomonics i.e. free cash, NPV, and internal rate of return.
"The better project will get front running on development, then the rest is up to the gold price.
"Ultimately we will make decisions on our gold projects that provides the best return for our shareholders."
Panoramic has also expanded into Platinum Group Metals (PGMs) having purchased the Panton PGM project near the Savannah project and the Thunder Bay North PGM project in Northern Ontario, Canada.
The company has a bullish outlook for platinum and palladium prices in the medium term and is keeping a close eye on South Africa as far as production is concerned given there was a ten% drop in production there of platinum and palladium last year and rumours of Russia's stockpile of palladium coming to an end.
"PGM demand is growing strongly mostly for catalytic converters in cars and with the car market growing rapidly in Southeast Asia, and recovering American market and Europe this bodes well for PGM demand," Harold said.
"There seems to be a potential supply and demand imbalance developing with many analysts forecasting higher platinum and palladium prices.
"Our view is that we have a reasonably cheap option on platinum and palladium with our two assets, and like our gold assets, we're happy to wait and take advantage of improved prices in the future.
Panoramic Resources Limited (ASX: PAN)
…The Short Story
HEAD OFFICE
Level 9
553 Hay Street
Perth   WA   6000
Ph: +61 8 6266 8600
Fax:   +61 8 9421 1008
Email: info@panres.com
Website: www.panoramicresources.com
DIRECTORS and MANAGEMENT
Brian Phillips, Peter Harold, Christopher Langdon, John Rowe
MAJOR SHAREHOLDERS
M&G Investment Ltd 10.7%
HSBC Nominees 12.9%
JPM Nominees 12.6%
Zeta Resources 10.7%
SHARES ON OFFER
322.27 million
MARKET CAPITALISATION
$143.4 million (at 3/4/14)
https://resourcesroadhouse.com.au/wp-content/uploads/2017/06/logo-finalized4.png
0
0
Wally Graham
https://resourcesroadhouse.com.au/wp-content/uploads/2017/06/logo-finalized4.png
Wally Graham
2014-04-04 00:00:00
2017-11-27 07:41:05
Savannah discovery widens Panoramic's outlook