THE INSIDE STORY: Rox Resources (ASX: RXL) has timed its run nicely to discover the nickel project all other junior nickel explorers are chasing.
The nickel market has emerged from a five-year hiatus with LME nickel futures recording a 15 percent gain in April, the biggest monthly gain since September 2012.
Most analysts credit the run to price pressures caused by increasing supply tightness thanks to the implementation of Indonesia's export ban on unprocessed ores and Russia's activities in Ukraine.
Australia's current nickel romance began in July 2012 when Sirius Resources (ASX: SIR) discovered its Nova and Bollinger deposits and was duly anointed as the Prince Charming of the Fraser Range region of Western Australia.
Soon every company along strike and within cooee began to flirt with the market extolling their respective virtues and demanding an invitation to the Fraser Range dance.
That's not to say all companies in the area are to be compared to the Ugly Sisters, but there are probably too many not likely to replicate the success of the region's hero.
Like all good stories, however, this one does have a Cinderella, it's just that she lives some 900 kilometres to the north in the North Eastern Goldfields region and is better known as the Mt Fisher gold-nickel project of Rox Resources (ASX: RXL).
"We are really excited about where Rox, as a company, is at the moment," Rox Resources managing director Ian Mulholland told The Resources Roadhouse.
"We have a couple of really strong projects, including the Mt Fisher project and the Reward zinc project in the Northern Territory."
The Mt Fisher gold-nickel project is located 500km north of Kalgoorlie and covers an area of 658 square kilometres, 488sqkm of which is 100 percent-owned by Rox with the company holding an option to purchase 100 percent of the remaining 170sqkm.
Rox's original target at Mt Fisher was gold, however its focus shifted after its discovery of nickel sulphides at the Camelwood deposit in December 2012 proved too significant to ignore.
Rox has since established a JORC 2012 Mineral Resource at Camelwood of 1.6 million tonnes at 2.2 percent nickel.
The Resource consists of an Indicated Mineral Resource of 0.6 million tonnes at 2.4 per cent nickel and an Inferred Mineral Resource of 1Mt at 2.1 percent nickel for 34,600 tonnes of contained nickel.
"Our main focus in on the Fisher East nickel project, which is really all about trying to define a big enough resource to start thinking about developing a mining operation there," Mulholland said.
"We only discovered the nickel 18 months ago, and the first thing we did was complete the drilling that allowed us to define the mineral resource of about 35,000 tonnes of contained nickel.
"Our focus now is on increasing the amount of contained nickel at the project.
"The grade is there, we have already established that, but it is important now to establish 100,000 tonnes of contained nickel to enable us to develop this project into a mine with a ten year mine life producing 10,000 tonnes of nickel per year.
"That would entrench us firmly in the top five nickel sulphide producers in Australia, placing us aside companies such as BHP Billiton, Western Areas, Independence Group and Panoramic."
Subsequent exploration by Rox identified the Musket and Cannonball deposits.
Early drilling at Musket has returned results including:
15 metres at 2.7 percent nickel from 264.7m, including 0.9m at 19.5 percent nickel;
17m at 2.2 percent nickel from 227m, including 8m at 3.3 percent nickel, including 2m at 8.1 percent nickel; and
16.2m at 2.8 percent nickel from 305.1m, including 0.8m at 19 percent nickel.
Recent results from a current diamond drilling program underway at the Musket nickel sulphide prospect have confirmed a coherent body of nickel sulphide mineralisation down to 300 metres depth, which the drilling has yet to close off.
Rox is confident these latest results will contribute to the estimation of a large maiden resource for Musket later this year.
"The mineralisation we are seeing at Musket is much thicker than we have encountered at Camelwood, which is only two kilometres away," Mulholland said.
"Musket is shaping up to add significant new tonnes to our overall project resource.
"Reaching that critical mass of 100,000 tonnes of contained nickel – it will probably be bigger – will allow us to get into production and then we can fund future exploration."
Although drilling at Fisher East has only reached 500m depth, it has indicated a mineralised system over 3km, which remains open along strike and at depth.
The mineralisation is typical of komatiite-hosted nickel sulphide deposits, similar to those found at Kambalda, with mineralisation at all three deposits occurring at the basal contact of a highly altered ultramafic lava with underlying sulphidic felsic sediments.
A series of sighter flotation tests on a number of composite drill samples achieved promising nickel concentrate grades of 11 to 15 percent nickel, at recoveries ranging from 40 to 97 percent.
Metallurgical test work is anticipated on samples from the Musket prospect in due course.
Because of the higher tenor of the Musket mineralisation compared with Camelwood, Rox believes better recoveries and concentrate grades could be achieved.
"We are completing some preliminary metallurgy test work – the results of which so far have produced good quality concentrates with no penalty elements," Mulholland said.
"Everything looks pretty much stock standard, which has provided us with a great deal of encouragement."
Across the border in the Northern Territory, Rox's JV partner, Teck Australia, is planning a program of around 4,000 metres of diamond drilling at the Reward zinc project (Rox 49%, Teck 51%).
The bulk of the drilling is to be carried out at the Teena prospect where diamond drilling in 2013 defined two distinct lenses of mineralisation and encountered impressive intersections of sulphide mineralisation over a 1.5 klometre strike length.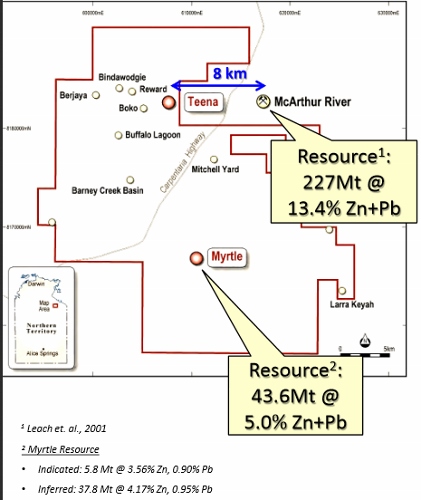 Recent drilling at Teena intersected:
26.4m at 13.3 percent zinc and lead, including 16.2m at 17.2 percent zinc and lead, and 20.1m at 15 percent zinc and lead, including 12.5m at 19.5 percent zinc and lead.
Rox had already defined a JORC 2004 Mineral Resource of 43.6Mt at 5.04 percent zinc and lead at the Myrtle deposit, some 15km south of Teena.
Teck has earned a 51 percent interest at Reward having already spent $5 million.
It has recently opted to increase that interest to 70 percent by spending a further $10 million by 2018.
"The Teena zinc prospect is shaping up to be a world class deposit," Mulholland said.
"When we end up with 30 percent of this project we will have 30 per cent of a world class deposit with significant value.
"We're hopeful that by the time Teck earns its 70 percent we will have completed enough drilling to have a resource there."
"Teena, potentially, is worth a lot more than what the Fisher East nickel project could be worth – this is our "Tropicana."

Rox Resources Limited (ASX: RXL)
…The Short Story
HEAD OFFICE
Level 1, 30 Richardson Street
West Perth WA 6005
Ph: +61 8 9226 0044
Fax: +61 8 9322 6254
Email: admin@roxresources.com.au
Web: www.roxresources.com.au
DIRECTORS
Jeff Gresham, Ian Mulholland, Brett Dickson
MAJOR SHAREHOLDERS
National Nominees   3.7%
Rox Directors        2.8%
Ram Kangatharan 2.2%
Siat Yoon Chin     1.9%
Teck Australia      1.3%
SHARES ON OFFER
745 million
MARKET CAPITALISATION
$32.8 million (at 17/6/14)
https://resourcesroadhouse.com.au/wp-content/uploads/2017/06/logo-finalized4.png
0
0
Wally Graham
https://resourcesroadhouse.com.au/wp-content/uploads/2017/06/logo-finalized4.png
Wally Graham
2014-06-17 00:00:00
2017-11-27 07:41:05
Nickel shines as Rox stars