THE BOURSE WHISPERER: Musgrave Minerals (ASX: MGV) will be another company keen to deliver its presentation at Diggers & Dealers next week.
The company has won first prize in a ballot for Fraser Range tenement EL 28/2405 in Western Australia, now named the Mamba project.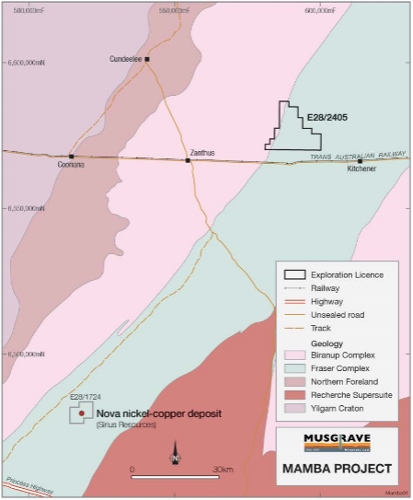 Location of Musgrave's new Mamba project in the Fraser Range. Source: Company announcement
Musgrave was victorious over 10 other applicants in the ballot, which went before the WA Department of Mines and Petroleum's Wardens Court recently.
The company has taken control of 61 blocks covering approximately 180 square kilometres.
Like all good Fraser Range tenements EL28/2405 is in the same belt as the Nova-Bollinger nickel-copper sulphide discoveries of Sirius Resources (ASX: SIR).
Musgrave indicated the tenement is along strike from Sirius' Nova deposit and only 5km from the Trans Australian rail line.
Musgrave's technical team has commenced reviewing previous exploration conducted on the tenement and has already identified targets within the regional aero magnetics it considers warrant follow-up exploration.
"We are very pleased with the positive ballot outcome for the tenement in a very competitive process," Musgrave Minerals managing director Rob Waugh said in the company's announcement to the Australian Securities Exchange.
"The tenement is in an exceptional location within the very prospective Fraser Range and we look forward to commencing exploration when the tenement is granted."
Musgrave explained the area covered by EL28/2405 was previously held by Ponton Minerals and was subject to a five year compulsory partial surrender in late 2013 prompting widespread interest amongst explorers.
Musgrave is in a strong financial position with $6.1 million in the bank, meaning it is well cashed up as far as junior exploration plays go.
The company is eager to conduct an aggressive exploration campaign over the new Mamba project tenement once it is granted.
Upon grant Musgrave indicated it will undertake detailed surface geochemical and ground electromagnetic surveys prior to drilling.
Email: info@musgraveminerals.com.au
Website: www.musgraveminerals.com.au
https://resourcesroadhouse.com.au/wp-content/uploads/2017/06/logo-finalized4.png
0
0
Wally Graham
https://resourcesroadhouse.com.au/wp-content/uploads/2017/06/logo-finalized4.png
Wally Graham
2014-07-30 00:00:00
2017-10-11 03:04:35
Musgrave wins Fraser Range tenement ballot