Lithium Australia (ASX: LIT) is moving towards its goal of becoming the first Australian integrated lithium company capable of capitalising on all major sectors of the lithium supply value chain.
Lithium Australia's ethos received industry support with the release of a report sponsored by the Association of Mining and Exploration Companies (AMEC) from the Future Smart Strategies think tank that identified opportunities awaiting Australia should it choose to take them.
Those opportunities pretty much sit in the hands of anybody who uses a mobile phone or computer, or drives an electric vehicle (EV), or uses any other modern technological lifestyle enhancing device.
These all use batteries – lithium-ion batteries (LIBS) to be precise – which is fast becoming the most important sector on the planet.
The AMEC sponsored Future Smart Strategies report claimed the compound growth estimates baseline for the battery energy storage sector to be above 10 per cent per annum, adding that some estimates indicate periods of year on year growth of 50 per cent peaking during the mid-2020's.
It highlighted factors expected to impact on these figures, including consumer technology adoption rates, cost reduction, impact of environmental policies, functional convenience and competition between new and existing manufacturers.
"It is also accepted that Lithium, due to its availability and chemical ability to efficiently mobilise electrical charge, will remain as the key material component of these batteries well beyond 2030," the Think Tank said.
"Exploiting lithium as an energy store has allowed EVs and other weight-sensitive electronic applications, such as mobile electronics, power tools and, most recently, robots and drones, to become ubiquitous."
According to Future Smart Strategies, the opportunity currently sitting in Australia's lap stems from the many local advantages it enjoys within the global lithium industry.
Australia currently mines most of the world's lithium and all minerals necessary to domestically manufacture batteries.
Future Smart Strategies threw down a lithium gauntlet, declaring, "Now is the time for Government and industry to act as other supplier countries are already acting to value-add downstream."
If there were such a thing as a lithium-ion battery powered crystal ball, then Lithium Australia would have the right to claim being the first to put it to use.
The company has been involved in the research and development of chemical processing technology for the economic recovery of lithium from spodumene and lepidolite minerals since 2014.
During this time, LIT it has progressed development of the company's SiLeach® process, a halogen-accelerated sulphuric-acid leach processing technology that efficiently digests and recovers metal values from treated minerals, without the need for high temperature, or energy and environment intensive roasting of typically refractory lithium minerals.
It can be used across a wide range of lithium feedstock beyond the usual spodumene, including mica, using low energy consumption, producing high metal recoveries and extensive by-product credits.
LIT believes commercialisation of the SiLeach process will allow exploitation of micas, the most common lithium minerals, which are currently considered waste.
LIT has received confirmation from patent authorities of the SiLeach process' novel, inventive and industry application.
Lithium Australia completed a preliminary feasibility study (PFS) in July 2017, on the application of the revolutionary SiLeach® technology to the recovery of lithium chemicals from micas.
The study enhanced the company's confidence in the process with engineering design studies and financial modelling demonstrating a large-scale pilot plant (LSPP) using the SiLeach® process can produce lithium chemicals from waste micas on a competitive basis.
The studies also identified multiple avenues for more substantial capital and operating-cost reductions.
LIT believes the construction and operation of the LSPP to be a necessary step in the successful commercialisation of the SiLeach process.
Operation of the LSPP will allow the company to integrate data collected on an industrial scale to evaluate its next aspirational step, which is full commercial production.
The LSPP is designed to produce lithium carbonate equivalent (LCE) at an annualised rate of 2,500 tonnes from approximately 27,500 tonnes of lepidolite mica feed (to a maximum grade of 4.5 per cent lithium dioxide (Li2O)).
Output of this scale is approximately one-tenth the scale of output of a full-scale commercial lithium carbonate production facility.
Production of by-products could also be part of the LSPP's development with by-products like potassium sulphate (K2SO4), sodium silicate (Na2SiO3), caesium (Cs) and rubidium (Rb) potentially produced using the SiLeach process.
"Being able to advance the SiLeach process to an industrial scale is a critical element in the research and development required to bring a superior process into the lithium industry," Lithium Australia managing director Adrian Griffin told The Resources Roadhouse.
"We are confident of success, which will subsequently enable us to utilise mine waste in the production of lithium chemicals – that is one of our great sustainability goals.
"Our technology offers a solution to the problem of the large quantities of lithium continue that continue to be discharged to waste streams emanating from the production of a range of industrial minerals.
"Such waste streams, which most commonly contain lithium micas, may very well prove the most cost-effective source of primary lithium.
"The development of more efficient processing technologies to allow exploitation of such materials is a major corporate achievement of Lithium Australia."
Lithium Australia understands a rapidly expanding battery industry needs to plan a sustainable future, which will require better utilisation of primary resources, higher rates of recycling energy metals from LIBS and improved battery production techniques.
Less than 10 per cent of batteries in Australia are recycled and most of the lithium waste produced from mining operations, both here in Australia and globally, is discharged to tailings.
Lithium Australia looking to 'close the loop' and create a circular economy for the production and utilisation of LIBs and is integrating technologies to achieve that outcome.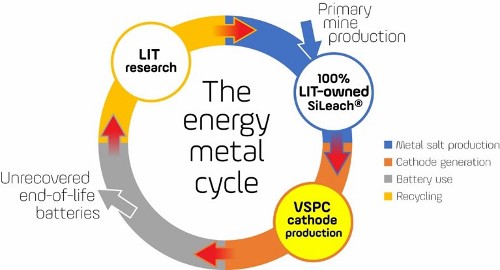 It recently finalised due diligence for the acquisition of advanced cathode material producer, the Very Small Particle Company (VSPC), which owns a proprietary process to produce advanced high-quality lithium iron phosphate battery cathode nano-powder material, a pilot plant situated in Brisbane Australia, complete with advanced laboratory and testing facilities.
LIT also announced an Inferred Mineral Resource of 25 million tonnes grading 0.45 per cent Li2O at the Sadisdorf tin-lithium-tungsten project in Germany, where it is farming into a joint venture (JV) with Tin International AG.
"We have demonstrated SiLeach can unlock Sadisdorf as a true polymetallic operation, recovering lithium from residues of conventional tin concentration processes," Griffin said.
"The Sadisdorf resource has potential to feed a 25,000 tonnes per annum lithium carbonate plant for 10 years.
"Sadisdorf has similar grades to the nearby Cinovec deposit (Czech Republic) and is not far from the Zinnwald deposit of Deutsche Lithium GmbH.
"All of these deposits have similar characteristics, making them difficult, if not impossible, to commercialise using conventional lithium processing technology – SiLeach provides the solution.
"We are where the most rapidly expanding consumption of lithium is happening outside China, which means Lithium Australia is are well placed to take advantage of that expanding market."
Lithium Australia NL (ASX: LIT)
… the short story
HEAD OFFICE
Level 1,
675 Murray Street,
West Perth WA 6005
Ph: +61 8 6145 0288
Email: info@lithium-au.com
Web: www.lithium-au.com
DIRECTORS
Adrian Griffin, George Bauk, Bryan Dixon
https://resourcesroadhouse.com.au/wp-content/uploads/2018/02/Lithium-Australia-Resize-300x225.jpg
225
300
Wally Graham
https://resourcesroadhouse.com.au/wp-content/uploads/2017/06/logo-finalized4.png
Wally Graham
2018-02-14 15:15:59
2018-05-08 09:35:25
Lithium Australia Closing the Lithium Economy Loop