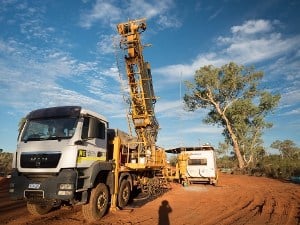 THE INSIDE STORY: Since discovering the high-grade zinc-lead-silver Southern Nights prospect in October 2017, Peel Mining (ASX: PEX) has confirmed it to be one of Australia's most important zinc polymetallic discoveries.
The original discovery came on the back of some good old-fashioned detective work carried out on historic data, from which Peel Mining identified a near surface oxide gold zone, beneath which sat some supergene copper, gold and silver.
However, the primary mineralisation that caught the company's attention was the deeper zinc-lead-silver rich massive sulphide.
An 18-hole program validated the historical results, demonstrating around 300 metres of strike and a system defined to 350 metres below surface and open in all directions.
Furthermore, the alteration and mineralisation in the drill core indicated this was likely to be a much larger system than initially thought.
Peel was encouraged to conduct further exploration, primarily geophysics conducting aeromag, surface EM, IP and gravity surveys that led to the discovery of the Southern Nights deposit.
Subsequent drilling produced high-grade mineralised intercepts at Southern Nights, and from the intervening zone between Wagga Tank and Southern Nights.
Most importantly, the drilling confirmed the Wagga Tank and Southern Nights deposits to be linked together, essentially as parts of one large mineral system.
Peel Mining's most recent drilling at the Wagga Tank-Southern Nights project have provided more evidence to support the company's growing belief in the project to be emerging as one of the most significant zinc polymetallic discoveries in Australia in recent years.
Assay results Peel recently received for drilling completed prior to the Christmas/New Year shutdown returned multiple new thick, high-grade zinc-lead-silver mineralised intercepts from the Southern Nights Central Zone, expanding the geometry of the known zinc-rich mineralisation.
Three drillholes: WTRCDD165, WTRCDD166 and WTRCDD167 were completed as part of an infill and extensional resource definition drilling program and were specifically designed to target the Southern Nights Central Zone where a coherent body of high-grade mineralisation is taking shape.
Assays from the Southern Nights Central Zone drilling encountered thick, high-grade intercepts including:
WTRCDD166
40 metres at 10.2 per cent zinc, 2.83 per cent lead, 0.61 per cent copper, 49 grams per tonne silver, 1.04g/t gold from 365m, including 16.21m at 16.91 per cent zinc, 5.01 per cent lead, 0.43 per cent copper, 87g/t silver, 0.98g/t gold from 366.23m, and
5.63m at 17.23 per cent zinc, 3.75 per cent lead, 1.02 per cent copper, 49g/t silver, 1.44g/t gold from 392.42m;
WTRCDD165
26.63m at 5.39 per cent zinc, 1.36 per cent lead, 0.2 per cent copper, 48g/t silver, 0.34g/t gold from 217.37m including 12m at 9.28 per cent zinc, 1.99 per cent lead, 0.19 per cent copper, 59g/t silver, 0.37g/t gold from 218m, and
5.5m at 7.21 g/t gold, 0.59 per cent copper, 13g/t silver, 0.78 per cent zinc, 0.14 per cent lead from 325m to EOH; and
WTRCDD167
13.17m at 7.78 per cent zinc, 3.6 per cent lead, 0.12 per cent copper, 248g/t silver, 0.55g/t gold from 329m, including 9m at 10.81 per cent zinc, 5.11 per cent lead, 0.18 per cent copper, 343g/t silver, 0.75g/t gold from 330m.
Further assays for drillholes WTRCDD153 and WTRCDD157 extended previous high-grade mineralised intercepts, returning intersections of:
WTRCDD153
20.65m at 9.92 per cent zinc, 4.83 per cent lead, 0.51 per cent copper, 104g/t silver, 0.53g/t gold from 355.35m, including 8.29m at 16.91 per cent zinc, 10.26 per cent lead, 0.7 per cent copper, 210g/t silver, 0.63g/t gold from 355.35m; and
WTRCDD157
53m at 7.43 per cent zinc, 3.46 per cent lead, 1.48 per cent copper, 114g/t silver, 1.47g/t gold from 218m, including 18.1m at 20.37 per cent zinc, 9.77 per cent lead, 0.36 per cent copper, 238g/t silver, 1.09g/t gold from 218m, and
18m at 3.04 per cent copper, 2.49g/t gold, 81g/t silver, 0.93 per cent zinc, 0.06 per cent lead from 252m.
The copper-gold mineralisation intersected in WTRCDD157 is the most substantial copper-gold intercept Peel Mining has achieved to date at Wagga Tank-Southern Nights.
The zinc-rich mineralised intercepts Peel Mining has encountered at Southern Nights Central has enabled the company to interpret the presence of an important zone of very high-grade mineralisation.
The true widths of mineralisation encountered has been estimated at about 70 to 80 per cent of the downhole widths.
The high-grade mineralised zone is thought to be covering up to around 180 metres of strike and has been defined from approximately 120m below surface to around 350m below surface.
Importantly, this mineralisation remains open downdip/plunge.
Peel is eager to continue to target this area with close-spaced infill drilling to better define the geometry and scale of the high-grade mineralisation in anticipation of the commencement of a scoping study.
Peel is carrying out drilling, comprising approximately 20,000m of RC and diamond drilling, designed to enable the completion of a maiden JORC-compliant mineral resource estimate by the end of the 2018/19 financial year.
The program is also designed to test for extensions to the mineralised system, which remains open along strike and at depth.
Two multi-purpose (RC/diamond) drill rigs have been drilling away on site to systematically infill and extend the current two-kilometre long footprint of the Wagga Tank-Southern Nights mineral system.
The program has revisited drillhole WTRCDD006, which was extended with further diamond drilling resulting in the intersection of zinc-lead-silver mineralisation.
Drillhole WTRCDD006 was originally drilled in 2016, however, this time it was targeted at the southern end of the Wagga Tank deposit to return a mineralised intercept of:
19.3m at 7.32 per cent zinc, 3.38 per cent lead, 0.3 per cent copper, 183g/t silver, 0.69g/t gold from 243m, including 12m at 10.36 per cent zinc, 4.75 per cent lead, 0.2 per cent copper, 265g/t silver, 0.71g/t gold from 250.3m.
Although the Wagga Tank-Southern Nights project represents a potentially major zinc-rich polymetallic Cobar-type discovery and is currently the company's primary focus, Peel Mining boasts a healthy portfolio of projects with just as much potential.
Mallee Bull is an advanced copper- polymetallic deposit that is subject to a feasibility study; the deposit remains open in many directions.
It contains a JORC compliant Mineral Resource Estimate of 6.76 million tonnes at 1.8 per cent copper, 31 grams per tonne silver, 0.4g/t gold, 0.6 per cent lead and 0.6 per cent zinc (2.6% copper equivalent) containing approximately 119,000 tonnes of copper, 6.6 million ounces silver, 83,000 ounces gold, 38,000 tonnes lead and 38,000 tonnes zinc (175,000t copper equivalent) (using a 1% copper equivalent cutoff).
The Cobar Superbasin project Farm-in Agreement with Japan Oil, Gas, and Metals National Corporation (JOGMEC) presents funded, highly-prospective and strategic greenfields exploration potential and includes the Wirlong copper discovery.
Wirlong has returned drill results that in other portfolios would make it a higher-ranked project, such as:
WLDD001
9m at 8 per cent copper, 17 g/t silver, 0.21g/t gold from 616m and 38m at 1.18 per cent copper, 4g/t silver from 450m;
Peel Mining also holds a 36.3 per cent shareholding in Saturn Metals (ASX: STN) that offers exposure to the Apollo Hill gold project in the WA goldfields.
Peel originally acquired the Apollo Hill gold assets hoping to become a West Australian gold producer; however, its discoveries in the Cobar region of New South Wales shifted its focus.
Peel Mining Ltd. (ASX: PEX)
… The Short Story
HEAD OFFICE
Unit 1
34 Kings Park Road
West Perth WA 6005
Ph: (08) 9382 3955
Email: info@peelmining.com.au
Web: www.peelmining.com.au
DIRECTORS
Rob Tyson, Simon Hadfield, Graham Hardie
https://resourcesroadhouse.com.au/wp-content/uploads/2019/02/Peel-Web-page-300x225.jpg
225
300
Wally Graham
https://resourcesroadhouse.com.au/wp-content/uploads/2017/06/logo-finalized4.png
Wally Graham
2019-02-12 13:57:33
2019-02-12 14:13:07
Like Stories Of Old: Southern Nights Has More to Tell