THE BOURSE WHISPERER: Indophil Resources has received a revised and upgraded mineral resource estimate for the Tampakan copper-gold project from project manager Xstrata Copper.
Indophil holds a 37.5 per cent beneficial interest in the Tampkan project located on the island of Mindanao in the southern Philippines.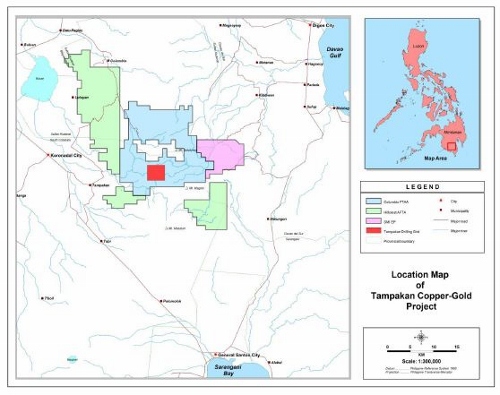 Location of Tampakan copper-gold project. Source: Company announcement
The total estimated mineral resources (Measured, Indicated and Inferred) for the Tampakan deposit has risen from 2.49 billion tonnes at 0.6 per cent copper at a 0.3 per cent copper cut-off grade to 2.94 billion tonnes at 0.51 per cent copper at a 0.2 per cent copper cut-off grade.
Indophil said the figures represent a tonnage increase of 18 per cent over the previously reported October 2009 total resource estimates.
According to the report from Xstrata Copper has achieved a 'significant increase' the lift in the more-confident Measured and Indicated category, up from 1.69 billion tonnes to 2.27 billion tonnes.
This represents a 34 per cent increase in tonnage in the project's Measured and Indicated category.
Estimated contained copper at Tampakan in total resources has risen from 13.9 million tonnes to 15 million tonnes while estimated contained gold has risen from 16.2 million ounces to 17.9 million ounces.
Indophil Resources chief executive officer Richard Laufmann acknowledged that even though the Tampakan deposit has already been identified as world-class, the new information contained in the Xstrata report confirmed its ranking as one of the most significant undeveloped copper-gold deposits in the world.
"The enhanced level of confidence provided in this upgraded resource estimate for Tampakan is encouraging," Laufmann said in the company's announcement to the Australian Securities Exchange.
"It is timely, and serves to restate the significance of this deposit to minerals development in the Philippines as the project partners work towards securing the range of approvals required to bring this important development to production."
https://resourcesroadhouse.com.au/wp-content/uploads/2017/06/logo-finalized4.png
0
0
Wally Graham
https://resourcesroadhouse.com.au/wp-content/uploads/2017/06/logo-finalized4.png
Wally Graham
2012-01-27 00:00:00
2017-10-11 03:05:29
Indophil reports Xstrata Tampakan upgrade