THE BOURSE WHISPERER: It was called a $16 billion "merger of equals" by its two gold mining participants and, judging from what both companies brought to the table, they may well have a point. By Mark Fraser
Tuesday's announcement that Western Australian-based Northern Star Resources (ASX: NST) planned to take over fellow WA miner Saracen Minerals Holdings (ASX: SAR) contained all the right signs for punters looking to invest in a seriously-credentialed ASX-listed gold producer with both an established organic growth portfolio and (so far) modest global presence.
The proposed merger – to be conducted via a Scheme of Arrangement in which Northern Star will acquire all of Saracen's stock for $5.75 billion – is not only set to create Australia's second largest domestically-owned gold miner behind Newcrest Mining (ASX: NCM), but also a new top 10 global yellow metal major boasting a "pro-forma" market capitalisation of $16 billion and $118 million net cash position, immediate production of 1.6 million ounces per annum (with a pathway in place to 2 million ozpa) as well as a current inventory of over 19 million oz (reserves) and 49 million oz (resources).
In one not-so-foul swoop the two companies will consolidate their leading position in the central Kalgoorlie-Boulder area (partly by becoming the single owner/operator of the historic Super Pit), tie up a good chunk of WA's reasonably-explored-but-still prospective Yandal Belt and increase their access to overseas capital markets in order to expand their international interests – a strategy which is already underway via Northern Star's Pogo gold project in the US state of Alaska.
And, once the deal is signed, these self-proclaimed equals will initially have three key production centres.
The first, Kalgoorlie – which includes the Super Pit and Carosue Dam 110 kilometres to Kalgoorlie-Boulder's north-east – currently has a reserve of 287 million tonnes at 1.4 grams per tonne gold for 13.3 million ounces as well as a resource of 516Mt at 1.8g/t for 30.5 million ounces. Overall, this operation is targeting production of 1.1 million ounces per annum.
Second cab off the rank is Yandal, where three projects – Jundee, Bronzewing and Thunderbox – contain a collective reserve of 66Mt at 2.2g/t for 4.6 million ounces, a resource of 139Mt at 2.3g/t for 10.2 million ounces and a yearly output target of 600,000 ounces.
Finally, there's the higher grade Pogo in Alaska, where the numbers are 5.9Mt at 8g/t for 1.5 million ounces (reserves), 22Mt at 9.8g/t for 6.7 million ounces (resources) and 300,000 ounces per annum (targeted production guideline).
All-in sustaining costs (AISC) pencilled for these processing centres during FY2012 are $1,475-1,575/oz, $1,130-1,220/oz and US$1,200-1,400/oz respectively.
Importantly, these are long term Tier-1 operations, with expected production to last 127 years (Kalgoorlie), 30 years (Yandal) and 14 years (Pogo).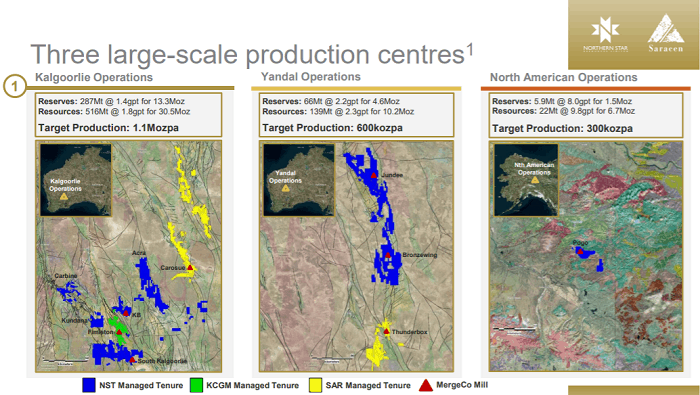 Source: Northern Star Announcement.
Given its strengths, it probably comes as no surprise to many that Northern Star – with its September market cap of around $11.8 billion – will become the majority owner of the new outfit.
Aside from amassing an impressive gold portfolio, which includes wholly-owned assets in Kalgoorlie (on top its 50% stake in the Super Pit), Yandal and Pogo, the company has also kicked quite a few corporate goals over the past decade.
In addition to already being Australia's second largest domestically-owned gold producer (Saracen is currently the country's fourth), Northern Star has, during the past ten years, generated an average return on invested capital of over 24% – a significant figure given it easily outdid some industry giants with Australian operations like Newcrest (about -2%), AngloGold Ashanti (JSE: ANG, NYSE: AU and ASX: AGG – around -5%) and Gold Fields (JSE and NYSE: GFI – approximately -25%) during the same period.
The mid-tier mining house has also enjoyed a return on equity of around 28%, again significantly outdoing the likes of AngloGold Ashanti (-1%) and Newcrest (-5%).
Furthermore, during FY2020, Northern Star increased its resources by 67% (from 12.7 to 31.8 million oz) and, over the past five years, enjoyed a whopping 179% jump in resources per share.
During this period the company's ore reserves also rose by 102% (5.5 million oz) to 10.8 million oz, while the reserves per share rose by an even more impressive 348%.
Having said this, it is important to note that Saracen – which during mid-September had a market cap of $5.6 billion – has been no slouch either.
Pre the merger announcement, the company was able to tell the market its FY2020 production was an impressive 520,000 ounces, while its FY2021 guidance was 600–640,000 ounces with an ASIC of $1,300-1,400 per ounce from its three operations (the Super Pit, Carosue Dam and Thunderbox).
Moreover, Saracen's net debt of $21 million at the end of the March quarter had morphed into a net cash position of $48 million by June 30.
Regardless of these past successes, though, for many ASX punters it's likely that the performance of the Super Pit over the next couple of years will be crucial given it is set to be one of the biggest cash cows (a targeted 550,000 ozpa) for the newly-merged outfit.
In this regard the news is good, judging by some observations made by analysts Tim McCormack and Henry Renshaw in an investment note issued by Canaccord Genuity during the middle of the September quarter just after the companies had jointly announced a maiden JORC compliant resource of 19 million ounces (up from the 12 million ounces previously established under National Instrument 43-101 guidelines) and reserves of 9.7 million ounces (an increase of 6.3 million ounces using the same criteria) for the asset.
According to McCormack and Renshaw, both numbers were calculated based on a "conservative" gold price of $2,250 per ounce and $1,750 per ounce respectively and were broadly in line with those used to determine earlier NI 43-101-compliant resources (US$1,400/oz) and reserves (US $1,200/oz).
A notable inclusion in the resources, they said, was Fimiston's maiden underground resource of 25Mt at 2.8g/t for 2.2 million ounces.
Multiple in-pit exploration declines were planned for FY2021 (costing $10 million) to conduct more efficient drill testing of the ore body, which represented an attractive medium/longer term opportunity that could extend the higher grade underground ore supply beyond Mt Charlotte (which is now scheduled to conclude during FY2025 based on its current reserves).
Notable inclusions in the Super Pit's reserves included the Fimiston South open pit (66Mt at 1.8g/t for 3.9 million ounces) – which were now a central part of the life of mine plan – as well as the (approximate) 3 million ounces stockpiles that were set to play an important role in the blend over the current LOM plan, particularly over next three years or so.
"Based on the current reserves, we now model an (around) 15 year mine life, up from 12 years previously, and see solid potential upside with ongoing exploration. The FY2021 exploration budget has been set at $12 million," McCormack and Renshaw noted.
If all goes to plan, Saracen stockholders will receive 0.3763 Northern Star shares for each of their shares held on the record date. Upon its completion, Northern Star will own 64 per cent of the combined entity, with Saracen holding the rest.
In their joint announcement to the market on Tuesday, the companies said the new-look outfit – which will retain the name Northern Star – would have a "clear trajectory" towards producing 2 million ounces of gold by FY2027, with output set to grow by over 30 per cent during the next three years.
They also said the planned merger would unlock some $1.5-2 billion net present value in pre-tax synergies via "geographic, operational and strategic synergies" over the next decade.
Furthermore, it should see the creation of $200 million in combined ownership amongst the board and management teams.
In this regard, under the revised corporate structure, Northern Star executive chair Bill Beament will become chair of the merged group (switching from executive to non-executive chair in July next year), while Saracen managing director Raleigh Finlayson is set to retain this position when the friendly merger is finalised.
Meanwhile, Stuart Tonkin shall become the chief executive officer, and Morgan Ball the chief financial officer, of the combined entity. Upon completion of the deal, the board of nine will comprise five directors from Northern Star and four from Saracen.
Both Beament and Finlayson will be on this board, while Saracen's non-executive chair, Tony Kiernan, plans to take on the title of lead independent non-executive director.
https://resourcesroadhouse.com.au/wp-content/uploads/2017/06/logo-finalized4.png
0
0
Wally Graham
https://resourcesroadhouse.com.au/wp-content/uploads/2017/06/logo-finalized4.png
Wally Graham
2020-10-08 17:05:15
2020-10-08 17:05:15
Compelling Synergies Likely to Make Strong Impact