THE DRILL SERGEANT: Comet Resources (ASX: CRL) CEO Philippa Leggat provided some interesting insight to the latest results from the company's Springdale graphite project in Western Australia at the 2019 Brisbane Resources Round-up.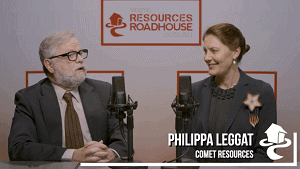 Comet Resources had announcedhigh-grade results from the first hole of a recent diamond drilling program conducted at the company's Springdale graphite project.
Comet Resources announced the first diamond drill hole targeting identified high-grade graphite mineralisation in the Northern Zone intersected 57 metres of high-grade graphite, from just 35.5 metres downhole.
Impressive assay results were returned from hole HD024 that was drilled at the easternmost end of the North zone, intersecting a wide high-grade graphite interval of:
57 metres at 22.38 per cent total graphitic carbon (TGC) from 35.5m using a 1 per cent TGC cut-off.
Comet said that graphite grades encountered throughout the zone were consistently high and that they clearly correlate with the massive graphite mineralisation observed in the core.
The company explained that hole HD024 had been designed as a PQ metallurgical angle scissor hole testing earlier-drilled vertical RC hole HR0126, which had intersected 46m at 12.16 per centTGC from 38m, including 17m at 19.9 per cent TGC from 51m.
The company observed that Total Graphitic Carbon assays for both holes at the intersection cross point are very similar, confirming good grade consistency between RC and diamond drill holes.
From core observations, Comet considers it is possible that HD024 has been drilled sub-parallel to the fold structure and is probably not reflective of expected true width of mineralisation.
"What wonderful results from the first diamond drill hole into the Northern Zone, especially considering how high the grade is over such a broad zone," Comet Resources CEO Philippa Leggat exclaimed in the company's announcement to the Australian Securities Exchange.
"It also reconfirmed the company's strategy to focus on the shallow, high-grade mineralisation at Springdale.
"Diamond core from this hole is now in the metallurgical lab for characterisation and floatation testwork.
"From this work and over the coming weeks, we anticipate a series of important results relating to initial recoveries and flake distribution.
"On from that we will continue to optimise the results across a broader range of samples.
"This is an exciting time for Comet, with the balance of our drilling results to come and metallurgical results to follow, investors can expect great news flow over coming weeks and months."
Email: comet@cometres.com.au
Web: www.cometres.com.au
https://resourcesroadhouse.com.au/wp-content/uploads/2019/10/Phillippa-Leggat-Home-crop.png
300
300
Wally Graham
https://resourcesroadhouse.com.au/wp-content/uploads/2017/06/logo-finalized4.png
Wally Graham
2019-10-17 06:45:58
2019-10-23 12:03:55
Comet Resources Scores High Results Graphite From Springdale Diamond Drilling