THE DRILL SERGEANT: Blackstone Minerals (ASX: BSX) enjoyed another big week of news flow from the company's Ta Khoa nickel-copper-PGE project in Vietnam.
Blackstone Minerals informed the market it has picked up the pace of its exploration activities underway at the Ta Khoa nickel-copper-PGE project, setting a new industry standard by adding a second geophysics crew and three additional drill rigs to its fleet, thereby doubling its exploration capacity.
Blackstone already had three drill rigs operating across the Ta Khoa project and now the addition of a fourth company-owned diamond rig will give it the option to test multiple prospects simultaneously, accelerating future resource upgrades, once it reaches completion of a maiden resource, scheduled for this quarter.
By owning and operating its own drill rigs, Blackstone said it has recognised substantial cost savings, with approximately 60 per cent reduction of per metre drilling costs relative to Australian industry averages.
Owning and operating four diamond drill rigs substantially increases the amount of drilling the company can undertake relative to other companies for the same expenditure.
"Blackstone is pleased to announce that we have doubled our exploration capacity to allow us to accelerate our exploration program to rapidly unlock what's shaping up to be a world class nickel sulphide district at Ta Khoa," Blackstone Minerals managing director Scott Williamson said in the company's announcement to the Australian Securities Exchange.
"We have expanded our exploration capacity by adding an additional geophysics crew and a further three drill rigs.
"The additions will ensure we can progress the project as rapidly as possible in a cost-effective manner.
"We are looking forward to a steady stream of drilling results during Q3 and Q4 2020 and will keep our shareholders up to date as results become available."
The doubling up of drilling equipment and personnel came on the back of the company announcing continued intersecting of high-grade massive sulphide nickel-copper-PGE at Ban Chang, part of the Ta Khoa project.
The first four holes of Blackstone Minerals' maiden drilling program at Ban Chang have all encountered sulphide mineralisation.
The latest of these, BC20-04, returned:
21.5 metres at 0.69 per cent nickel, 0.66 per cent copper, 0.03 per cent cobalt and 0.81 grams per tonne PGE from 71m
13.4m at 1.01 per cent nickel, 0.96 per cent copper, 0.05 per cent cobalt and 1.14g/t PGE from 76m, including 2.1m at 2.53 per cent nickel, 1.36 per cent copper, 0.11 per cent cobalt and 0.76g/t PGE from 77.6m.
The four maiden drill holes were drilled more than 1.2 kilometres apart and along strike within a 1.2km-long massive sulphide target zone defined by high priority EM plates.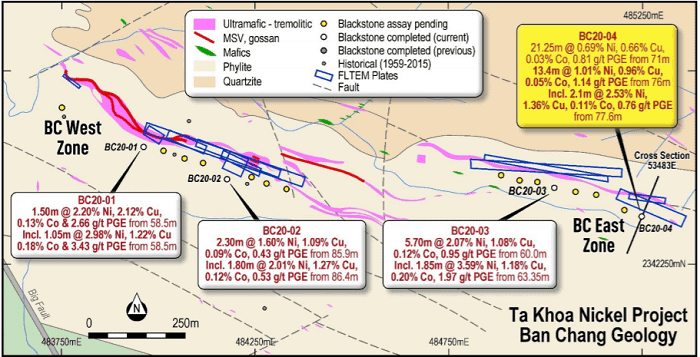 Blackstone has now moved to an aggressive drill out phase to delineate a maiden resource at Ban Chang to supplement the ongoing studies focused on producing nickel sulphate for the lithium-ion battery industry.
The company has recently purchased a third drill rig that will follow its geophysics crew throughout the Ta Khoa nickel sulphide district, testing high-priority EM targets generated from 25 MSV prospects, including King Snake, Ban Khoa, Ban Chang, and Ta Cuong.
The largest of these rigs will continue drilling at the King Cobra Discovery zone (KCZ), while the two smaller drill rigs will operate at Ban Chang East and Ban Chang West.
Blackstone's Scoping Study on downstream processing to produce nickel sulphate for the lithium-ion battery industry and Ban Phuc maiden resource are on track for completion in Q3, CY20.
"Hole 4 has delivered our broadest Ban Chang intersection to date and confirms we have a bulk tonnage opportunity that has potential to deliver significant high-grade nickel to our future mine plan which will be underpinned by a base load feed coming from our flagship Ban Phuc orebody which includes the KCZ," Williamson said.
"Ban Chang is the first of our 25 MSV targets to be tested throughout the Ta Khoa nickel-copper-PGE district, leaving plenty of upside for adding high-grade feed to what looks like a bulk open pit mining scenario at Ban Phuc and KCZ."
Email: admin@blackstoneminerals.com.au
Web: www.blackstoneminerals.com.au
https://resourcesroadhouse.com.au/wp-content/uploads/2017/06/logo-finalized4.png
0
0
Wally Graham
https://resourcesroadhouse.com.au/wp-content/uploads/2017/06/logo-finalized4.png
Wally Graham
2020-08-14 07:29:22
2020-08-14 07:29:22
Blackstone Minerals Doubles Down on Ta Khoa Exploration