THE CONFERENCE CALLER: Having substantially firmed up its namesake high grade brownfields gold project in Western Australia, Bellevue Gold (ASX: BGL) is now seeking to expand its resource base via greenfields exploration some 50 kilometres to the east. By Mark Fraser
The company is also preparing to look at some other prospective targets much closer to home.
During his appearance at the recent Diggers & Dealers Mining Forum in Kalgoorlie-Boulder, Bellevue's upbeat managing director Steve Parsons said drilling was set to begin at Yandal South in WA's north-east Goldfields.
Covering around 870 square km of under-explored real estate, this land hasn't been properly looked at for the best part of 20 years.
While details regarding this field campaign were scant, Bellevue's website says it holds a "dominant land position" between Bronzewing (which boasts an historical production of 5 million gold ounces) and Darlot (4.5 million oz), where "significant historical untested anomalous gold-in-soils and surface sampling await follow-up".
From all indications the wholly-owned Yandal South has five main targets, with three being Yambo Strike, Popes Patch and Hartwell. Previous drilling in this district has returned gold intercepts like 9 metres at 8.5 grams/tonne (from 37.5m), 27m at 1.32 g/t (42m), 6m at 3.14 g/t (120m) and 19m at 1.4g/t (23m).
Aside from casting its eyes eastward, the company has been looking at an area immediately north of the historic Bellevue operation, which sits 430 km north of Kalgoorlie-Boulder and 40 km north of Leinster.
Covering around 20km of strike from the mine, the Kathleen Valley project has been subjected to very little systematic modern exploration, but nevertheless contains a number of advanced prospects.
During his Diggers & Dealers' presentation, Parsons indicated the most exciting of these were Kathleen Valley, Government Well and Palmyra, which collectively had yielded numbers like 17m at 4.2g/t (from 19m), 2m at 18.7g/t (32m) and 2m at 22.8g/t (8m).
Then (running north to south) came the Bellevue Northern extension, where intersections of 11m at 6.5g/t (35m) and 2m at 5.6g/t (64m) were recorded, followed by Westralia pit (4m at 28.2g/t from 57m), Vanguard pit (8m at 11.2g/t from 27m), Henderson pit (3m at 53g/t from 13m) and Bellevue West (102g/t in rock chips).
All up, Bellevue is looking to spend a total of $35 million on exploration over the next 12-18 months. This will include the development of near-mine targets.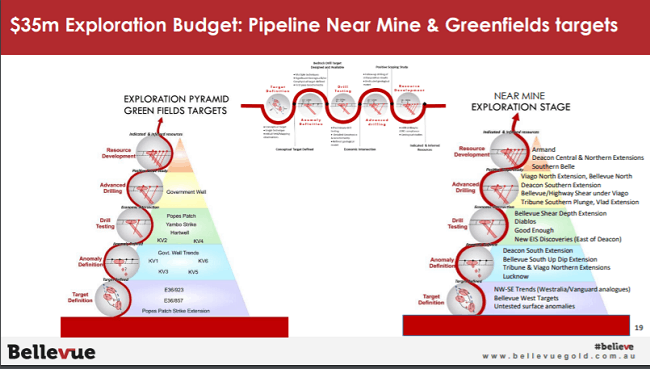 "We've had just such rapid success, and amazing success, at Bellevue (that) we've really have been focused on just around the brownfields, around the headframe, of where the mill and mine will be at Bellevue," Parsons told the Diggers & Dealers crowd.
"(It's) the first time ever that we are getting out on the ground now and exploring the 20 kilometres of strike of Bellevue and, of course, stepping out and looking at our second project (Yandal South) that sits only 50 kilometres away from where the processing plant will be at Bellevue.
"We're super-excited by that – and you are going to see us starting on that drilling this weekend, with the first five targets being undertaken between now and Christmas – so hopefully some good news will flow on from that over the coming months."
As it stands Bellevue has established a gold resource of 2.3 million ounces from ore grading 10g/t.
Within this is a 15.5g/t high-grade core containing 480,000 ounces.
This resource has grown at around 75,000 ounces per month at a discovery cost of $18 per ounce since December 2017.
Located within the Agnew-Wiluna Greenstone Belt in the Leinster region of WA's Goldfields, the historic Bellevue mine produced around 800,000 ounces from 15g/t material in a predominantly underground gold operation that ran from 1987-1997.
Other projects situated within 100 km of Bellevue are the multi-million oz Lawlers/Agnew complex as well as the Wiluna, Bronzewing, Thunderbox and Darlot deposits.
https://resourcesroadhouse.com.au/wp-content/uploads/2017/06/logo-finalized4.png
0
0
Wally Graham
https://resourcesroadhouse.com.au/wp-content/uploads/2017/06/logo-finalized4.png
Wally Graham
2020-10-29 16:08:14
2020-10-29 16:08:14
Bellevue Gold Scant on Details, but Conceptually Sound