THE BOURSE WHISPERER: Apollo Minerals (ASX: AON) has entered into a strategic alliance with High Power Exploration (HPX), a private company controlled by international mining bigwig Robert Friedland, to explore for base metals in an emerging IOCG frontier in the Northern Gawler Craton in South Australia.
The strategic alliance involves a two tranche equity investment in Apollo shares of up to $2.4 million and a two phase $3.4 million farm in to earn up to an 80 per cent interest in certain tenements. Up to $1.25 million of the placement moneys will be applied towards the farm in expenditure.
Apollo explained that after the farm in has been established the two parties will strike up the Commonwealth Hill Joint Venture.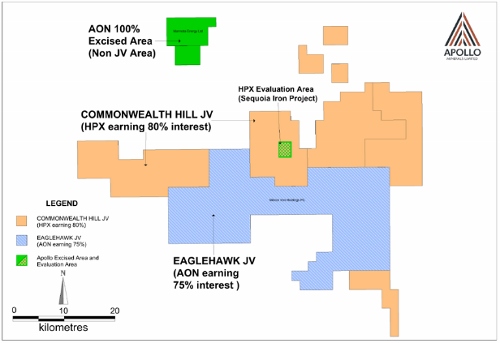 Source: Company announcement
Apollo stressed the new transaction with HPX will not have any effect on the company's existing joint venture arrangements, including its rights to earn a 75 per cent interest in the adjacent Eaglehawk JV (MincorJV) and the Aurora-Tank JV.
The company said it was pretty happy to be entering into this strategic alliance as it believes its project area in the northern Gawler Craton has strong potential to host a tier 1 base and precious metals deposit.
 
The company considers the agreement with Friedland's HPX to be a strong validation of the area's discovery potential, and, most importantly, provides the funding and technical expertise to rapidly advance the project.
"Apollo has conducted an extensive process to identify a strategic and joint venture partner," Apollo Minerals executive director Richard Shemesian said in the company's announcement to the Australian Securities Exchange.
"We have been fortunate to attract a group like HPX, which has world class technology, highly skilled and experienced people, and a successful track record.
 
"It is this sort of exploration expertise, know-how and finance that Apollo requires to make discoveries in this new IOCG Frontier in South Australia."
HPX also indicated its enthusiasm for the potential it sees in Apollo's project.
"We look forward to applying our expertise and technology at the Commonwealth Hill Joint Venture," High Power Exploration chief executive officer Mark Gibson said in Apollo's announcement.
"We are looking forward to working with Apollo to test some of the targets which Apollo has already identified, and others."
HPX brings geophysical technology to the table it claims can penetrate to great depths with high accuracy, which it has previously deployed with some success in Australia, Africa and South America.
It considers the technology to be ideally suited to the geological environment and surface conditions found at Commonwealth Hill, and believes it will be able to quickly evaluate the large geological features present.
HPX said it anticipates a rapid survey turnaround, to generate targets for follow up drilling.
Preparation and planning for the first IP geophysical survey over the Bundi IOCG target has commenced and it is expected that survey works will commence in March 2014 subject to relevant approvals.
A decision to drill is expected by the first half of 2014
It will be the first time the HPX technology has been used in South Australia.
Email: info@apollominerals.com.au
Website: www.apollominerals.com.au
https://resourcesroadhouse.com.au/wp-content/uploads/2017/06/logo-finalized4.png
0
0
Wally Graham
https://resourcesroadhouse.com.au/wp-content/uploads/2017/06/logo-finalized4.png
Wally Graham
2014-02-27 00:00:00
2017-10-11 03:04:38
Apollo Minerals signs JV with Friedland's HPX