THE INSIDE STORY: Alto Metals is aiming to re-establish standalone oxide and primary gold mining and milling operations at the company's Sandstone gold project in Western Australia.
Alto Metals holds 800 square kilometres of the prospective Archaean Sandstone Goldfield in the East Murchison Mineral Field of WA.
Alto acquired the project in June 2016 and has compiled and reviewed a large legacy database leading to a series of focused exploration and drilling campaigns.
"We acquired the project in June 2016 andthe tenements were granted in September that year," Alto Metals managing director Dermot Ryan explained to The Resources Roadhouse.
"During that 18 months we completed a detailed airborne magnetic survey, compiled a data base and made some new discoveries.
"Most of the Sandstone belt is covered by a layer of soil and sand and laterite, so airborne magnetics are needed to look to the basement rocks underneath to find favourable lithologies and structures for gold mineralisation.
"We did that, then burrowed through the Western Australia Mines Department historical soil sample and historical drilling results.
"We integrated those data sets and identified 56 targets we divided into camp-style areas, ranking them in order of potential prospectivity."
Armed with this information, Alto aims to delineate a combined one million-ounce JORC 2012-compliant Mineral Resource, to be the basis for recommencing operations.
Work date has demonstrated this resource is likely to comprise relatively shallow gold deposits from brand new discoveries – new discoveries near known small deposits in the vicinity of Vanguard and Indomitable and expanding existing deposits such as Lord Nelson and Lord Henry.
"Oxidisation in the Sandstone region is around 50 metres deep, so drilling an angled hole to average of 41 metres depth, like many previous explorers at Sandstone, doesn't test the primary zone," Ryan explained.
"At targets such as Vanguard and Indomitable, we are drilling deeper, inexpensive aircore holes to get a good look in that primary zone with the view of developing these targets into open pit Resources we can mine from surface.
"For a junior company, discovering and mining a new deposit that is oxide on top and primary zone within 100 metres of surface is a better first option than drilling 200 to 300 metre holes under somebody else's old pit.
"This deeper drilling can be funded later, or done now by others, if they have the requirement and the necessary funds."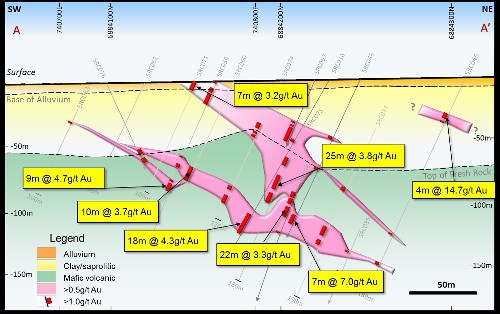 From a one-million-ounce start, Alto's hopes to define over five million ounces of gold, which it considers comparable to other more intensely explored greenstone belts in the Yilgarn area.
Early results from RC and AC drilling conducted at the Vanguard and Indomitable targets demonstrated the Vanguard system contains many high-grade mineralised structures.
Alto's drilling at Vanguard discovered four new high-grade mineralised structures, in addition to the previously known structure, providing further evidence the Vanguard system is robust and open.
Assay highlights from Alto's RC drilling of the oxide zone at Vanguard included:
SRC046
8 metres at 7.8 grams per tonne from 34m;
SRC064
29m at 2.3g/t gold from 28m; and
SRC067
33m at 2.3g/t gold from 39m.
RC drill results from the primary zone at Vanguard included:
SRC075
22m at 4.2g/t gold from 88m, including 3m at 13.3g/t from 28m;
SRC016
17m at 4.5g/t gold from 122m, including 2m at 12.2g/t gold from 133m;
SRC032
22m at 3.3g/t gold from 103m, including 1m at 15g/t gold from 109m; and
SRC048
7m at 7g/t gold from 126m, including 2m at 10.8g/t gold from 128m.
"Between May and June 2018 we drilled over 12,000 metres of aircore over ten high priority prospect areas at Sandstone," Ryan said.
"Approximately half of these holes, and half of the metres, were drilled around Vanguard and between Vanguard and Vanguard North."
All five mineralised structures at Vanguard plunge shallowly to the northeast and remain open at depth.
The oxidation base was encountered at approximately 50m depth with mafic volcanics being the primary host rock.
A soil sampling program early this year identified a two square kilometre gold in soil anomaly connecting Vanguard and Vanguard North.
Assays of 197 of almost 400 samples from the Hancocks Mining Centre south of the Bull Oak pits defined a coherent 30 parts per billion (ppb) gold-in-soil anomaly over 9sqkm.
Assays from 28 samples out of a total of 340 samples collected near the Edale Fault returned anomalous results of over 7ppb gold in two discrete linear zones, each between 1,000m to1,500m long.
A third target, Chance, also lies on a splay of the Edale Fault.
"Our sampling program appears extensive, but we're not blanket covering the whole belt," Ryan said.
"We have focused on target areas of historic work that is incomplete.
"Once there, we are conducting detailed soil sampling to see if we can expand or constrain those targets for follow-up drilling.
"Although we have already completed 12,000 metres of aircore drilling this year, we have another 8,000 metres scheduled."
More recent soil sampling over a geophysical target approximately 12km south of Sandstone has defined a plus 7ppb gold anomaly striking southeast over 1,500m.
In keeping with the history of naming prospects at Sandstone after WW1 British battleships, the target was dubbed 'the Superb Anomaly', possibly due to it returning a maximum value of 228ppb gold, with a further 13 samples returning over 15ppb gold.
The area hosting the Superb Anomaly was initially identified by Barry Bourne, a consultant of Terra Resources, in 2017 after processing and interpreting the detailed aeromagnetic data mentioned above that had been flown and/or compiled by Alto over the entire Sandstone project area.
Bourne described the target as, "a break in sediment/mafic stratigraphy with proximal mineralisation".
"The Superb Anomaly lies in an area of iron rich duricrust, or laterite, so we need to determine whether the gold is representative of a primary gold source at depth, or is alluvial in nature," Ryan explained.
"Further soil sampling will determine the extent of this gold in soil anomaly which is open to the south east.
"We have lodged a Program of Work for Aircore drilling with the Department of Mines, Industry and Safety and are awaiting approvals to enable us to start drilling."
At the same time as the search proceeds for the new one million ounce discovery, Alto is reviewing potential for generating early cashflow from treating 100 year old battery sands from Hacks, Oroya, Havilah and Maninga Marley prospects.
Auger sampling and metallurgical test work is underway to determine the material's viability for being incorporated into a low-cost heap leaching operation.
"There is still a lot of gold – underground – at Oroya, and we're currently digitising the old level plans and having a look at what might be a residual Resource that we could do something with – or somebody else might want to do something with," Ryan said.
"Hacks is another deposit mined by the old timers to the south of Sandstone that historically produced around 206,000 ounces of gold at 28 grams per tonne gold.
"In the short term we are reviewing all the existing open pits and looking at what potential may lie beneath them.
"The deposits we are looking at all have very high-grade in the primary zone."
Alto Metals Ltd (ASX: AME)
…The Short Story
HEAD OFFICE
Suite 9
12 – 14 Thelma Street
West Perth, WA, 6005
Ph: +61 8 9381 2808
Email: admin@altometals.com.au
Web: www.altometals.com.au
DIRECTORS
Terry Streeter, Dermot Ryan, Dr Jingbin Wang, Terry Wheeler
https://resourcesroadhouse.com.au/wp-content/uploads/2018/07/Alto-resize-300x225.jpg
225
300
Wally Graham
https://resourcesroadhouse.com.au/wp-content/uploads/2017/06/logo-finalized4.png
Wally Graham
2018-07-19 14:34:11
2018-10-11 20:20:23
Alto Metals Re-invigorating Sandstone Gold Potential