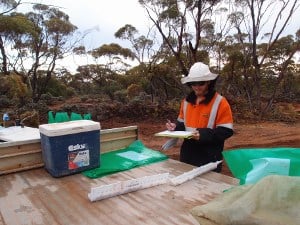 THE INSIDE STORY: Alliance Resources (ASX: AGS) is beginning to realise the potential lying within its flagship Weednanna gold prospect and other regional targets.
As Alliance Resources progresses Weednanna towards a maiden mineral resource estimate, the company has also turned its attention to the regional gold potential surrounding the prospect.
The Weednanna gold prospect is the most advanced of the Wilcherry Project Joint Venture in the Gawler Craton of South Australia between Alliance and Tyranna Resources (ASX: TYX).
As of 31 March 2018, Alliance had increased its interest in the Wilcherry Project Joint Venture Exploration Area to 71.09 per cent.
At Weednanna, high-grade gold shoots are associated with a calc-silicate and magnetite skarn system.
Alliance has stated its objective to establish a maiden mineral resource estimate for Weednanna this year and working towards that goal includes a staged program of metallurgical work on Weednanna gold mineralisation with the aim of optimising gold recovery and culminating in process design criteria and capital and operating costs for the processing base case.
Should the outcomes of both work streams be positive, Alliance intends feeding them into a scoping study to commence in the second half 2018.
The company has already demonstrated the exploration potential at Weednanna, however historic high-grade gold intercepts at the Mawson and Ultima Dam South prospects, both within a short trucking distance to Weednanna, also have the company very excited.
The most recent work at Weednanna consisted of Alliance's fourth RC drilling program at the prospect, returning results that included four holes assaying greater than 50 grams per tonne-metres gold (grade by thickness).
Around the same time, Alliance completed a further 22-hole RC drilling program to define the geometry of Target 4 and initial testing of Target 5.
Fifteen holes at Target 4 reported intercepts greater than 1g/t gold, including four holes returning greater than 50g/t-m gold.
After a short break in drilling at Weednanna, Alliance returned in June to conduct a further 14 holes at Weednanna Target 4 with the aim to bundle together Targets 1 – 4 and 3D modelling to establish a mineral resource estimate.
"We finished a high-resolution gravity survey at Weednanna earlier this year, because we really wanted to fully understand the targets we are drilling," Alliance Resources managing director Steve Johnston told The Resources Roadhouse.
"They are discreet targets and most have relatively narrow extents in cross section, but have potential for continuity down plunge and, of course, there is potential for repetition.
"We are trying to throw as much at it as we can in terms of geophysics because we already possess good magnetic data sets, a good regional gravity data set and previous IP work there has lit up sulphides which are often associated with gold."
The high-resolution gravity survey revealed several structures, including a dominant NW-SE trending set.
The Weednanna Target 1 gold shoot is located along the most prominent of these NW-SE trending structures, which continues to the south of Target 4.
Alliance will use the gravity data to assist with mapping the sub-surface geology, particularly the target corridors of calc-silicate and magnetite skarn that host high-grade gold shoots.
The data will complement the existing geophysical datasets at Weednanna and will be utilised for constrained 3D inversion modelling to assist with targeting new gold lodes.
"The idea of doing the high-res gravity survey was to get a handle on the calc-silicate target, which hosts the gold mineralisation," Johnston explained.
"We found some really large northwest-trending structures cutting across the project, which we had a hint of from the magnetics, but they really showed up from the gravity survey.
"One of the structures goes through Target 1, which is our largest target sitting in the west of the project.
"Target 1 is quite constrained at only 130 metres of strike, but this structure that trends through it, and continues on, is about one kilometre and, historically, there hasn't been much drilling along the length of it.
"That has really opened that area for further exploration, so we will be looking at that too.
"Once we have modelled these targets we will be able to see if there are any other localities that might provide for structural repetition.
"It could be quite a powerful model that we will have at the end of it, so the wireframing we are doing is not just for a mineral resource estimate, it is also for targeting additional mineralisation.
"I'm confident that we will identify other target areas, I don't know how many at this stage, but we have potential to add to the number of target areas we already have at Weednanna."
In May this year, Alliance announced the commencement of a review of regional gold prospectivity in a bid to identify prospects with potential for gold mineralisation situated within five kilometres of Weednanna.
The company compiled results from historic geochemical and drilling databases that showed gold was encountered at the Mawson, Ultima Dam South and Weednanna North prospects, with anomalous gold of greater than 0.2g/t gold at the Ultima Dam and Ultima Dam North prospects.
The Mawson prospect sits 3,600m to the northwest of Weednanna and was initially identified by calcrete sampling in in the 1990s that defined a gold-in-calcrete anomaly over the southern part of the prospect.
Drilling by Anglogold into the anomaly in 1999 intersected 29m at 0.86 per cent copper from 41m.
Trafford Resources drilled nine RC holes across Mawson in 2008, including four with diamond tails with five holes reporting intercepts greater than 1g/t gold, with a best intercept of 5m at 2.46g/t gold from 159m, including 3m at 3.3g/t gold from 161m.
The Ultima Dam South prospect, 3,200m northeast of Weednanna, was also drilled by Anglogold in 1999.
Two holes reported intercepts over 1g/t gold, with a best and shallow intercept of 1m at 4.09g/t gold from 14m.
When it released the announcement, Alliance was surprised that it seemed to fly under the radar of market watchers and analysts.
"The market doesn't always understand the implications of such an announcement," Johnston said.
"That announcement was really a statement of historic results within a five-kilometre radius of Weednanna that we don't believe had been published before.
"This was work completed by previous owners and explorers that included results of five metres at close to 2.5 grams per tonne gold at the Mawson prospect, just to the northwest of Weednanna and another of one metre at four grams per tonne gold from the Ultima Dam South prospect to the east.
"What is important to note is that the drilling was not targeting gold but copper at Mawson and iron ore at Ultima Dam South.
"Serendipitously there was gold and it appears to be associated with the calc-silicates and magnetite similar to what we're getting at Weednanna.
"We will be having a really good look at that next year with a view to doing more geophysics and drilling to try and identify some of these target areas.
"We have only just scratched the surface at Weednanna, but there seems to be potential for multiple Weednanna-style deposits at these other localities."
Alliance Resources Limited (ASX: AGS)
…The Short Story
HEAD OFFICE
Suite 3
51 – 55 City Road
Southbank, VIC, 3006
Ph: +61 3 9697 9090
Email: info@allianceresources.com.au
Web: www.allianceresources.com.au
DIRECTORS
Ian Gandel, Tony Lethlean, Steve Johnston
https://resourcesroadhouse.com.au/wp-content/uploads/2018/06/P6073714-300x225.jpg
225
300
Wally Graham
https://resourcesroadhouse.com.au/wp-content/uploads/2017/06/logo-finalized4.png
Wally Graham
2018-06-29 08:53:51
2019-02-12 14:20:43
Alliance Resources Promoting Weednanna from Gold Prospect to Gold Region