THE BOURSE WHISPERER: Aruma Resources (ASX: AAJ) has increased the area of its Bulloo Downs copper project in Western Australia to more than 2000 square kilometres through the addition of new leases.
The extra leases have been added to an agreement Aruma struck with Atlas Iron (ASX: AGO) in June, through which Aruma has the option to earn up to 100 per cent of a number of leases in the Bulloo Downs area.
Atlas will maintain the iron ore interests and retain a one per cent royalty on future production.
The company is currently negotiating in regards to additional leases with other leaseholders.
Aruma has also pegged an ELA (52/83096) in the southern area.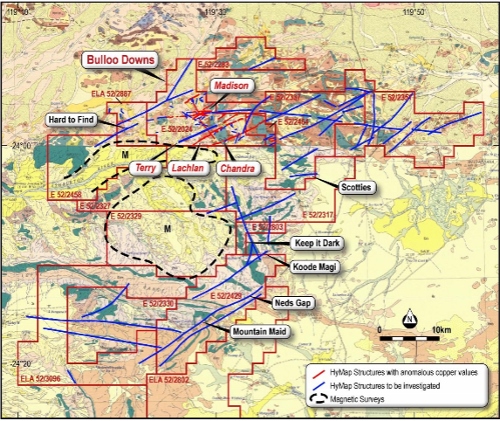 Bulloo copper project leases on geology with structures. Source: Company announcement
The newer leases contain extensions of previously announced structures, as well as the additional Mountain Maid, Ned's Gap, Koode Magi and Keep It Dark copper prospects.
Aruma has data from Atlas and Dynasty Resources (ASX: DMA), which it is now integrating with new surveys to give comprehensive magnetics and HyVista maps.
"With the acquisition of these additional leases, the known trends are now fully contained within the Aruma leases," Aruma Resources managing director Peter Schwann said in the company's announcement to the Australian Securities Exchange.
"They also confirm the strike extent of the mapped structures to more than 300 kilometres.
"The company is booked to fly 1700 square kilometre HyVista Multispectral Scanning to define and confirm further mineralisation targets.
"The precious and base metals at all locations add a new dimension to the project."
Email: info@arumaresources.com
Website: www.arumaresources.com
https://resourcesroadhouse.com.au/wp-content/uploads/2017/06/logo-finalized4.png
0
0
Wally Graham
https://resourcesroadhouse.com.au/wp-content/uploads/2017/06/logo-finalized4.png
Wally Graham
2014-07-23 00:00:00
2017-10-11 03:04:35
Aruma expands Bulloo Downs project